Sunday, 2 April 2006

Newsletter 0073

This week's issue is kindly sponsored by

Fozi's Crispy Samosas

لسلام عليكم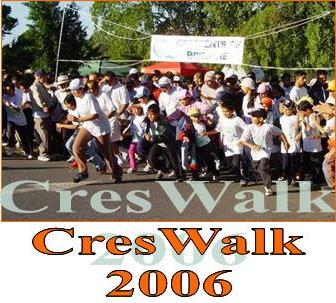 CresWalk2006 entry forms can be dropped off at the Kuraby Community Hall on
Saturday 15 April between 2 and 5pm.
If you can't make it on the day you can get them to us any time between now and then by post or hand them over to anyone on the organizing team or register (and pay) online.
You will also be able to drop off your entry form at the Kuraby BBQ and Fundraiser on Sunday 23rd where Crescents of Brisbane will be manning a stand. But remember that this is also the official closing date. Entries received after this day will not qualify for a T-Shirt.
Entry forms are available at Continental Halal Meats, Nandos Mt Gravatt, Global Convenience and Nandos Underwood all MAJOR SPONSORS of CresWalk2006.
You can also download and print off the entry form or register online.
Cyclone Larry Fund Raising Dinner

General Peter Cosgrove will be the guest speaker at a fund raiser for the Cyclone Larry victims on Sunday 9 April at Michael's Restaurant.
Besides being a good cause the event promises to be quiet entertaining as well. If you would like to join the Crescents of Brisbane contingent on the night then send us an email and we will book you a place.
David Forde, who has put together this event, has also got the National Australia Bank to match dollar for dollar (to a maximum of $20K) on all monies raised on the night. There will also be random draw prizes and auctioned items. The donation price of the ticket is tax deductible.
Several other Muslim groups have booked out tables for the night including the young ladies of the Al-Nisa Youth Group Inc, The Darra Islamic Society, The Kuraby Mosque and MBN. In an interview on ABC Radio during the week Forde was full of praise for the enthusiastic support he was getting from the local Muslim community for this event.
More details are on this flyer.
Queensland Open TAEKWONDO Tournament
THE first tournament of the year was held on 26 March at the Brisbane Entertainment Centre. There was a real feeling of excitement as we, as the Ramis Thunder Taekwondo Club, had trained hard and were looking forward to having some fun.

Our youngest team member Mujahid Ahmed took a silver medal in his first tournament. Mohammed Chouchane took our first Gold medal.
Our coach and our supporters were really happy. Muhammed Dean had a convincing win over his opponent and took the second Gold medal.

With Rami our coach supporting us all the way, Waseem put on a brave fight and took a Bronze medal in his match. Hisham Misraoui had to beat 3 opponents to take the teams 3rd Gold medal. By this time our supporters were going crazy. We were on a roll.

It was finally my turn and with my coach by my side and my fellow teammates supporting me I could do no wrong. I easily took the teams 4th gold medal. Yacoob Zahran and Faraaz Khan finished the day for us with another 2 Gold medals.

Our tally for the day was 6 Golds, 1 Silver and I Bronze.
We look forward to the next tournament and hope to see you all there.

GO THUNDER!
By Muhammed Peer (10)
Hassan Goss is heading up to Innisfail in a week's time to seek out several Muslim families who are suffering hardships as a result of the devastation caused by Cyclone Larry.
He is hoping to identify their specific and immediate needs and offer them any help he can while he is there. This might entail him arranging for the purchase of items like sheds and personal effects. If you would like to help Hassan in any way, financially or otherwise, please contact him on 0418737621.
Good on yer, Goss!
The newly established Brisbane Muslim Burial Services operates the Janaza facilities based at the Kuraby Masjid (Masjid Al Farooq).
The Committee provides the Ghusl Facilities with all the utilities required to perform the Ghusl, as well as the Kaffan for the deceased. They will liaise with the Funeral Director to arrange the cemetery booking, death certificate, other documentation and transport arrangements for the Janaza from the home or hospital to the Masjid and then to the Cemetery.
Although the use of the facility is provided free of charge, there are other costs incurred. An average Muslim Funeral costs approximately $4000.00. (Estimated costs - Mt Gravatt Cemetery fees $2400, Funeral Director fees $750, and grave setup costs $350.)
Please feel free to contact any of the committee members below when the need arises or if you require any further information or have any comments or suggestions.
 Br Yusuf CHOTIA
Tel: 34230379 Mob: 0404 834 786

 Br Riaz GUTTA
Tel: 32198726 Mob: 0400 105 786

 Sh Mabrouk HOUDCHIA
Tel: 32199120 Mob: 0433 128 430

 Dr Fuzlahuck MOOLA
Tel: 38417886 Mob: 0419 773 570

 Br Feisal PARUK
Tel: 3219 8469 Mob: 0403 755 652

 Dr Iqbal SULTAN
Tel: 3219 0786 Mob: 0412 845 786

 Br AK SURTIE
Tel: 33456441 Mob: 0422 935 270
Brown Knows British Muslims are "Modern Heroes"
BRITISH Chancellor of the Exchequer (Minister of Finance), Gordon Brown, paid tribute during the week to British Muslims as "modern heroes" who brought hope and idealism to the country.

The Chancellor said they had contributed to Britain spiritually and economically because Islam was a religion that encouraged fair play, social justice and equality.

"Islam teaches us that we are all part of one moral universe, that humanity is intertwined and interlinked like different parts of a human body, reflecting each other's condition. This is a universal moral principle we can all learn from," he said.

Many of Britain's 1.5 million Muslims supported Labour until the Iraq war and the party is now working hard to try to win them back.

"As Chancellor, I want in particular to thank you for the enormous contribution the Muslim community makes to our economy. I have learnt much from your entrepreneurial flair and talent," Mr Brown said in a speech at the Muslim News awards for excellence.

"But the contribution of British Muslims to British life goes far beyond the economic realm."

Mr Brown, whose father was a Church of Scotland minister, praised the teachings of Islam and defined a hero as "someone who has given their life to something bigger than themselves".

He went on: "So I want to honour you and members of the Muslim community as our modern heroes: standing for the highest ideals, bearing burdens, and bringing hope to Britain."

He said Muslims had contributed economically ever since they started migrating to British towns and cities in large numbers in the 1950s.

"What we share in common is the belief in fair play, in social justice and in the equality and potential not just of some but of all," he said.

Source:http://www.news.telegraph.co.uk/news/main.jhtml?xml=/news/2005/03/25/nmusl25.xml&sSheet=/news/2005/03/25/ixhome.html

The Brisbane Muslim School and the Darul Uloom Islamic Academy of Brisbane invite you to participate in Seeeratur Rasool celebrations on Saturday, 8 April between 11am and 2pm at the Brisbane Muslim School, 724 Blunder Road, Durack.
There will be learned Imams and Scholars delivering different aspects of Seeratur Rasool. This will be followed by a children's program, a talk by an invited guest and salaah and lunch.
For more information contact the school on 3372-1400 or email them at darululoom@uq.net.au
Two years of Working for Brisbane

MARKING two years since his election as Lord Mayor of Brisbane, Councillor Campbell Newman said he was still focused on tackling Brisbane's longstanding congestion problems, improving public transport and dealing with the drought.

Cr Newman said he was committed to achieving results for the people of Brisbane.

While dealing with important issues, like reducing traffic congestion and improving public transport, Cr Newman said the most significant issue presently facing Brisbane residents was the drought, and associated water supply problems in South-East Queensland.

"Not an hour goes by that I don't think about water, talk about water or get a briefing on water," Cr Newman said.

Councillor Newman said significant achievements over the past two years include:
• Getting work started on TransApex and focussing on reducing traffic congestion
• Improving public transport, including unprecedented investment in building public transport infrastructure, purchasing new buses and ferries, as well as improving existing bus services and facilities
• Establishing a strong relationship with the State Government
• Working with SEQ mayors to create the Council of Mayors (SEQ)
• Introducing Neighbourhood Planning to give local residents a say in the future growth and development of their suburb
• Making Council more responsive, open and accountable
• Increasing funds for the acquisition of 'at-risk' bushland
• Introducing funding for creek catchment co-ordinators
• Commissioning the Brisbane City Centre draft masterplan
• Launching an interstate marketing campaign to promote Brisbane as a tourism and business destination

"Brisbane is about to enter a new era of infrastructure development," Cr Newman said.

"Council now has major infrastructure projects proceeding quickly. Construction has started on Australia's first dedicated bus, pedestrian and cycle bridge linking St Lucia with Dutton Park, the successful tender for the NSBT is about to be announced, and concept designs for Airport Link and the Hale Street link have been released."

Cr Newman said he was particularly proud that over the past two years Council had improved public transport, launched two new citycats and purchased 120 new environmentally friendly buses - with another 120 on the way.

Another Great Evening of Enlightenment with Abu Hamza
By Aref Hellou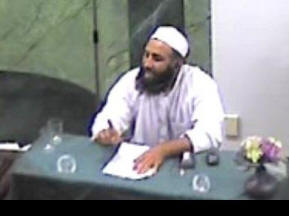 ABU Hamza's lecture last Friday night at the Gold Coast Mosque was once again a great success. Those welcomed guests from the Brisbane region and the local brothers and sisters that attended were once again participants in an evening of enlightenment.
Abu Hamza covered many topics throughout the evening, ranging from the hijab to riba, Halal and Haram, what Allah (swt) has decreed to be Halal no man can make Haram and what Allah has decreed as Haram let no man make Halal. Throughout the lecture he continually stressed the importance of being STEADFAST in our Deen. He reminded us that we must not allow ourselves or anyone to try to reason or justify anything contrary to what Allah (swt) has decreed in the Quran and stressed the importance of being steadfast in our faith.
The evening talk finished with a question and answer segment which went on for just as long as the lecture itself. A very enjoyable and informative evening concluded with dinner which Insha Allah everyone enjoyed.
All in all it was a very enjoyable evening for all the brothers and sisters. Jazakum Allah to all the guests that travelled a long way and graced us with their company. We look forward to seeing you all again at the next function which will not be too far ahead Insha Allah.
For those who missed this lecture or would just like to relive the evening a recording is available on DVD or VHS for $15.00 + postage by contacting Hj Aref on 0414 979 481 or email isgc@helloexpress.com.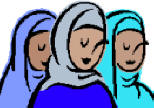 When: Wednesday 5th April
Lecture 14 has now been uploaded, ready for you to download.
IN last week's lead story, comments by our Man-on-the-Mussallaah were inadvertently juxtaposed alongside a photograph of a gentleman seen dishing out onto a plate.
Our Man-on-the-Mussallah wants it pointed out to all and sundry that any assumption that he and the gentleman in question are one and the same person is completely fallacious and, in fact, a slight on his exceptionally good character, physical appearance and standing in the community.
He has asked CCN to put out this notice to set the record straight, failing which he would be left with no alternative but to seek legal redress.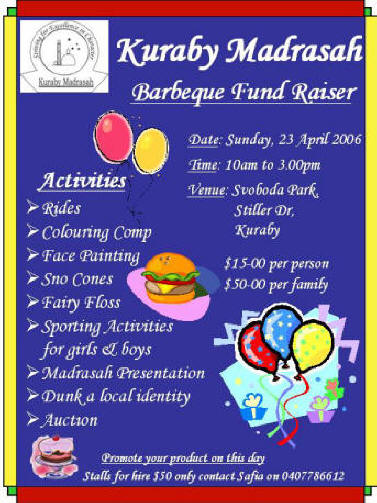 French Coach Troussier and Wife Convert to Islam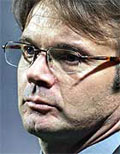 RABAT, March 24, 2006 (IslamOnline.net & News Agencies) – Famed French soccer coach Philippe Troussier and his wife Dominique have reverted to Islam in the Moroccan capital where they live, sources close to the couple confirmed Thursday, March 23.

"Troussier is no longer Philippe, he has taken the name Omar and his wife is no longer Dominique but Amina," the French-Moroccan daily L'Opinion reported Thursday.

A source close to the couple confirmed the reversion to Agence France-Presse (AFP), adding that the ceremony took place last Friday.

The widely-travelled Troussier, 51, is former coach of the Moroccan national team and French club Marseille.
He also had spells in charge of South Africa, Nigeria, Ivory Coast, Burkina Faso, Qatar and Japan, whom he guided to the second round of the 2002 World Cup.

"Wonderful Surprise"
L'Opinion hailed the reversion as "a magnificent and wonderful surprise."
"Welcome Omar and Amina to the Kingdom of the All Powerful, the Kingdom of the Truth," it wrote.
"As Muslims we are happy to see such a strong and well recognized personality as Philippe Troussier become part of this religion of peace and tolerance."

The newspaper added that when contacted Troussier said he "did not want to elaborate too much on the subject."
"I want to keep my feelings for myself," Troussier was quoted as saying, adding: "as you see things evolve ..."

The Moroccan Evening newspaper reported that the couple have adopted two local girls Selma and Mariam.

Thousands of French revert to Islam every year in France, but not all of them declare their new faith outright, fearing discrimination at home or work and a stereotypical view that reverts tilt towards extremism, according to recent studies and surveys.

Anelka, who played for Paris Saint-Germain, Arsenal, Real Madrid, Liverpool and Manchester City, eventually had to leave for the Turkish league after increasing harassment.

Some imams in France have ruled that it was permissible for new reverts to conceal their faith if they feared rejection from family members and colleagues or security harassment.

Many Arabs and Muslims were even forced to change their names and hide their roots to spare themselves police and employers' discrimination.

A Sorbonne research released earlier in the year by the French Observatory Against Racism found that Arab names and dark complexion represent an obstacle to jobseekers.

France is home to some six to seven million Muslims, the largest Muslim minority in Europe.
-----------------------------------
Source: http://www.islamonline.net/English/News/2006-03/24/article01.shtml
CCN Supporting Local Business
Queensland Islamic Book Service
Specials for this month – ends on April 30th
Complete Qu'raan Audio Tapes – Live Recording from Makka/Madinah - $20.00
The Sealed Nectar (award winner on biography of the Prophet) - $20.00
Specials till end of April. Limited copies available.
Phone 3879 7349/0431266847 (Vodafone)
Here you will find answers to questions like:
How do I get to the Mosque?

How do I contact you?

How does the Mosque cover its running cost?

Who are the Trustees ?
and a whole lot more.
Local Derby in the Districts
On the spot coverage by Hanief Khatree, who dabbles in sports journalism when he is not attending to pregnant mothers or presiding over weightier Muslim Business Network matters
" Kuraby is the better place to live in" said one person. "No, it is not" said the other. How are we going to decide on this? "The only way is to fight to the finish" said the third. The challenge was on and the duel set – not a gunfight or boxing match but a cricket match. Kuraby chose its 11 players and the opposing team called 'The Rest" chose its teams members from Eight Mile Plains, Calamvale, Stretton and Park Ridge.

The match was set for Sunday 26 March to commence at 6am at the Daw Road Cricket Grounds.

Most players were there on time and some had to be literally dragged out of bed.

The Rest won the toss and put Kuraby into bat. Kuraby started off well and then there was a middle order collapse eventually making 174 runs all out with one ball to spare in their allotted 25 overs. Imraan Randeree top scored with 32

The Rest went into bat and after losing 2 early wickets went onto score 211 in their 25 overs with Naeem Khatree making 54 not out. Man of the match was Riyaad Ally having taken 3 wickets for 16 runs and fielding very well.

And finally the dispute was eventually settled – Kuraby has to have a rethink about the claims that they make. The Rest won the match and proved their point. It has been rumoured that Kuraby is trying to get Naeem and Riyaad to move from Eight Mile Plains to Kuraby to strengthen their team.

Overall it was a good match, played in good spirits and on a glorious Brisbane Sunday morning.

LAST week's competition, which had a touch of the April 1 in it, drew a flood of entries. The winner of the Nandos Fiesta voucher whose email was the first correct entry to be randomly drawn from the CCN Inbox can be found by clicking here.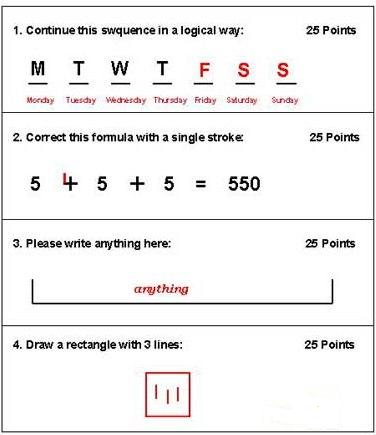 This week's brain teaser is a trifle more testing. Email your entry to reach our Inbox by midday Saturday 8 April.
Solve the puzzles by saying them out loud, over and over, faster and faster, repeating the phrase, until you "hear" the answer.
Example: LAWN SAND JEALOUS (place) Answer: Los Angeles
SHOCK CUSSED TOE (a person)

SAND TACKLE LAWS (a fictional character)

MY GULCH HOARD UN (a person)

MOW BEAD HICK (a book)

THOUGH TIGHT AN HICK (a thing)

AISLE OH VIEW (a phrase)

(One for the ladies)
A man and his wife, now in their 60's, were celebrating their 40th wedding anniversary.
On their special day a good fairy came to them and said that because they had been so good that each one of them could have one wish.
The wife wished for a trip around the world with her husband.
Whoosh! Immediately she had airline/cruise tickets in her hands.
The man wished for a female companion 30 years younger...
Whoosh...immediately he turned ninety!!!
-------------------------------------------------------
If you thought this joke was lame (and you'd be well and truly forgiven if you did) why not email us yours, and if it gets published in this Joke of the Week column you could be in line for a fabulous (?) prize.
(Psst ...we'll even keep your name out of it, if you wish).

Dear Team
Congratulations on the wonderful work - may Allah swt reward all those that are involved abundantly InshaAllah
Habib Jamal (Gold Coast)

You can update my email details but to be honest I do not read the newsletter you guys send out so I don't really care.
ZS

Asselamu alejkum to you all!
For so long tame I thinking to wraith a letter to you to let people know about HERB for CANCER.
The was article in news papier Gold coast Bulletin in February 17, 1992 about Cancer victims in pawpaw hunt.
This article explained us that was an old man (62) he visiting a doctor. Doctor tell to patient that he have a maximum tame to live only 3 month (!) Poor men wen to home and star to cry, to weep. Neighbour was aboriginal. Asking Him Way you, Blade craning??
The men toll him story about visiting a Doctor. An explain the conversation. Doctor toll me that I have he most tree (3) months to live. I have a CANCER.
Aboriginal man: " I you Docktor a Good ( neuzu bilahy)?? Encore No. Then How he will know haw long you will live.
I, said aboriginal man, will give to you medicine tomorrow.
Next day hi gave him same TEE - liquid- maid from fresh live of Pawpaw lives.
Cut story witch is very long. The man drink pawpaw ti for 3 mans (90) days 2x a day for about 200 ml itch tamis.
After 3 mons he visited to Docktor. was weary surpass that man NO MORE HAVE CANCER.
Docktor; God Mr Sheldon, did you se haw medicine we have. May tablets witch I have prescriber for you realia works. Bolshy doctor. I did not tray one your tablets. I tray Aborigine medicine. He tell all story from day one.
Mr Sheldon live 88 years. He lived 26 years after doctor diagnoses.
Please berried in mind that Allah dz.s give se laife and He is on command how long I,You, We live in the this dunjaluk.
But Allah sed; Look for the medicine for you good life.
Do you remember that Muso.a.s only Human been was able to speak to Allah.Dz.s.
On day Muso have big Pin in a stomach. He tray everything but stomach have continued pain. Then He, Musa.a.s. put hands to sky asking to Allah. " O Allah, I have big pains in my stomach. " O Musa, say Allah, look to on you right said. Picket up to green grass. eat. " Musa do watt Allah ordered to hem an after evolving Gras pain despaired.
After wale again Musa.a.s. have a big pain in stomach. He ran to meadow and look for grass same he youse before. Grab grass chewing, cued and swallow. Again, again, and Again but pain existing more then before. Then He< Musa.a.s. look to up and ask to Allah: "O, Allah, I have again pain in stomach. I it grass but nothing happened. Allah: "O Musa ! you was asking to grass to helping you. You din ask me to helping you.
I ma only on to able to helping you, said Allah to Musa. Then Musa.a.s realest he tucked wrong said. Post be ask to Allah for a help.
In this my story to you is messages; Pleas my brothers, sisters, Boys and Girls. We ask to Allah for a help. Using Pawpaw lives it is only way Allah helping you.
You Have believe in Allah power. Then Believe that Allah helping. Tack pawpaw herb to help you self.
Fader information you can ask from brother Safet on email plana8@dodo.com.au or from Kuraby Mosque every night on Esher pray tame.
Selam to you all from Hajji Safet
<![if !vml]>

<![endif]>
<![if !vml]>

<![endif]>
Focas Delights

Fouzia Cassim

Mob: 0431 088 956 Mob: 0433 149869

2 / 51 Moss Street, SLACKS CREEK, Brisbane

Queensland, Australia 4127

Phone 09617 3290 2567 1165 Fax 09617 3209 1165

email: drcpeer@hotmail.com

<![if !vml]><![endif]>

Introductory Special Offer

CHICKEN SAMOSAS 10 Dozen Lot

Cost

GST

Total

10 Doz

Cost

GST

Total

$0.61

$0.06

$0.67

120

$73.20

$7.32

$80.52

Excluding Delivery
Write For Us
The best ideas and the best feedback come from our community of readers. If you have a topic or opinion that you want to write about or want seen covered or any news item that you think might be of benefit to the Crescents Community please e-mail theteam@crescentsofbrisbane.org.
Share your thoughts, feelings and ambitions for our community through CCN.
If there is someone you know who would like to subscribe to CCN please encourage them to send an e-mail to theteam@crescentsofbrisbane.org with the words "Subscribe Me" in the subject line.
Disclaimer
Articles and opinions appearing in this newsletter do not necessarily reflect the opinions of the Crescents of Brisbane team, CCN, its Editor or its Sponsors.