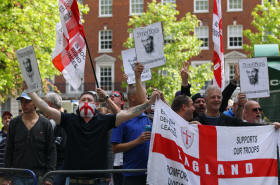 UK: In justification of his attacks in Norway, killing more than seventy civilians, mostly teenagers, Anders Breivik issued a manifesto: 2083 A European Declaration of Independence.
It has been widely reported that he cited a long list of Islamophobic and "counterjihad" writers such as the Americans Robert Spencer, Daniel Pipes, Pamela Geller and Frank Gaffney of the Center for Security Policy - and the Egyptian-born, Swiss-based Bat Ye'or who has popularised the concept of "Eurabia" - the supposedly secret conspiracy for the Islamic takeover of Europe.
Less prominent, but also cited, was a UK think-tank that is close to the UK government and credited with influencing UK anti-terrorist policy.
Policy Exchange is one of two conservative think-tanks we examine in our new Spinwatch report [PDF], that attempts to understand the current climate of fear being whipped up against Muslims in Britain - and indeed across Europe and the US.

Aljazeera