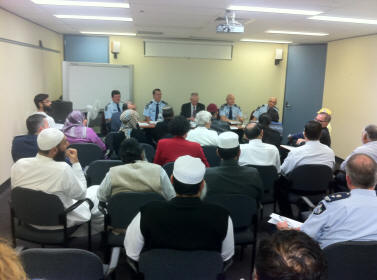 Muslim community leaders met this week with outgoing Police Commissioner, Bob Atkinson, the newly appoint Commissioner, Ian Stewart and other senior police to discuss issues arising in the aftermath of the Sydney protests a few weeks ago.
Incidents of graffiti and abuse directed at Muslims were brought to the attention of the meeting and what steps were taken to report and attend to them.
The Islamic Council of Queensland undertook to call up a meeting of members of the Muslim community to identify strategies and initiatives to engage with the youth and the QPS more effectively.
A number of other stakeholders were also in attendance including ASIO and the Anti-Discrimination Commission, the latter offering to meet with the Islamic Women's Association of Queensland to update its members on how to exercise their rights in the event of abusive and discriminatory encounters.
Sergeant Jim Bellos, who coordinated the meeting. told CCN: "I want to express our gratitude to the Muslim community for their attendance, especially at such short notice. The Muslim community in Queensland and the QPS enjoy a close working relationship, and we support the many functions that are held in the Muslim community. I also look forward to a long lasting and harmonious relationship with you."