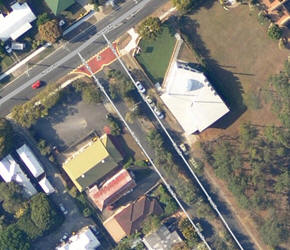 Holland Park Mosque, in Brisbane, has secured the purchase of the property next door, a total of 1900 square metres which includes a car park, double storey hall, double story church and two double storey houses. The Salvation Army property has been negotiated at a total cost of $2 million to be paid by the end of this year.

With the $200 000 deposit having been paid and pledges coming in, there is an amount of $1,609,000 still to be raised.

"This is a once-in-a-lifetime opportunity and we cannot let it pass," a spokesperson for the Islamic Society of Holland Park told CCN.
The contract to purchase the property has gone unconditional and the Society is making every effort to meet its financial obligations with the help of the community in the 6 weeks remaining.
There are three ways of contributing financially:
1. An immediate donation of any amount
2. A pledge of a period payment through a debit order
3. An interest-free load payable by the Society by 30 December 2013
"If we don't purchase it, the Salvation Army are talking about developing the property by building units. This would seriously curtail any future plans for Holland Park. That is why it is so important to gather the funds to purchase the property. Failure is not an option."

For more information and how you can contribute to this cause click here.