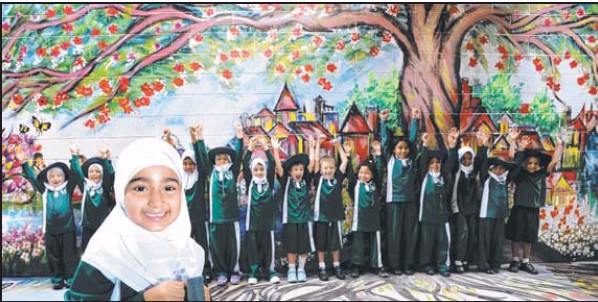 ART SMART: Zeynep Koprulu and her classmates love the colourful, 80m mural they helped artist Towfiq Alqudy to paint, at the Islamic College of Brisbane
A VIBRANT mural is bringing inspiration to students and teachers at the Islamic College of Brisbane, Karawatha.
The 80m mural, painted by Annerley artist Towfiq Alqudy, took about five weeks to complete and features cityscapes, changing seasons, fish and bright flowers spilling out on to the footpath.
Mr Alqudy said he had wanted to paint something special for the students of the school, to help them learn and create each day.
''When I first came to paint the mural, I didn't know whether to paint images for the teachers, or the parents, or just for the kids,'' Mr Alqudy said.
''Then I thought I would paint what the kids would like to see. Some of them have come (to Australia) from difficult situations, so I wanted to make them feel happy.

''I also wanted to share the painting with the kids, so every morning I would give them a paintbrush.

''Now some of them tell me they want to be artists when they grow up, which is great to hear.''