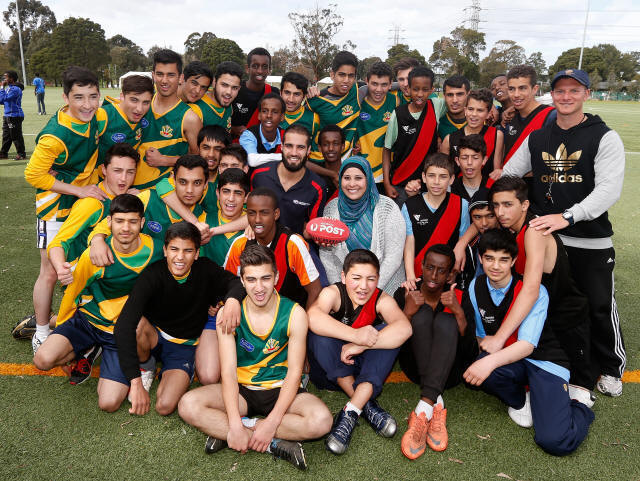 Bachar Houli with players involved in the competition that bears his name alongside Masterchef 2013 contestant, Samira El Khafir who performed her first celebrity engagement.
AS THE Bachar Houli Islamic Program was official acknowledged on the world stage on Wednesday, two Islamic based schools battled for the Bachar Houli Cup in Melbourne.

Coburg Australian International Academy (AIA) triumphed over Fawkner Darul Ulum College at JJ Holland Reserve in Kensington, winning the AFL 9s competition that has grown rapidly since being introduced in 2012.

Meanwhile, on Wednesday night in Philadelphia, the AFL and Bachar Houli Islamic Program were acknowledged at the Beyond Sport Summit.

The National Football League won the governing body of the year award, but Houli's program was shortlisted in the top five in the governing body category from 350 international nominations.


For me, being a footballer is about giving back to my community, and through my AFL multicultural programs I get to do just that.


Bachar Houli

The Bachar Houli Cup has been developed by the Richmond defender and the AFL's multicultural program, with AFL diversity programs manager Ali Fahour representing the League in Philadelphia.

The program, which aims to engage young Muslim men in Australian football, has become a national program in just 12 months after starting in Victorian schools.

The program aims to celebrate cultural diversity, provide the participants with a positive AFL and cultural role model, and identify potential AFL talent.

"Congratulations to AIA, and all of the participants of the Bachar Houli Program," Houli said.

"I really love being part of it, and meeting the students who I know love participating.

"For me, being a footballer is about giving back to my community, and through my AFL multicultural programs I get to do just that."

Houli's programs engage around 5000 students nationally, and his next project will be the Bachar Houli Academy, a five-day training program run at the ME Bank Centre at Punt Road Oval.

Some of the participants of the Academy will be selected from this year's Bachar Houli Cup.

The Bachar Houli Islamic Program currently engages 30 Islamic colleges nationally.

The Bachar Houli Cup is targeted at 14-17 year olds who play a round-robin football carnival against other Islamic colleges in their respective states.

Thirty Islamic students will be drafted into the Bachar Houli Academy where their skills will be fast-tracked in order to give them the best chance of breaking into the talented player pathway.

Source: AFL