On Tuesday, October 15, Muslims in Saudi Arabia will mark the end of the yearly pilgrimage to Mecca, or Hajj, with communal prayers and celebrations.

The day of celebration and prayer is called Eid ul-Adha (EED-al-ODD-ha), or "festival of the sacrifice."
Eid ul-Adha also commemorates the Prophet Abraham's (pbuh) willingness to sacrifice his son Ishmael at God's command.
The day is celebrated with the prayers, distribution of meat to the needy, and social gatherings.
During this day, Muslims exchange the greeting "Eid Mubarak" or "blessed Eid."
Each year, some two million Muslims, including hundreds of Australian Muslims, go on Hajj.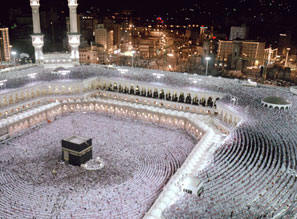 CCN wishes all our Muslim readers and their Families and Friends
Eid Mubarak