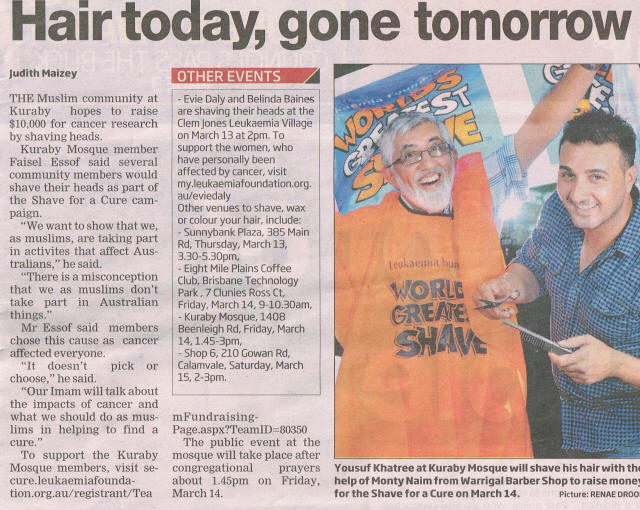 Southern Star: 4 March 2014
The Muslim community of Queensland is proud to be participating in the World's Greatest Shave!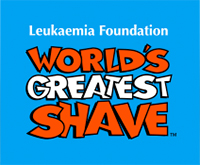 THE GOAL: $10,000
CURRENTLY RAISED: $1988
PLEASE SUPPORT US BY DONATING AT
http://my.leukaemiafoundation.org.au/qldmuslims
Join us outside the Kuraby Mosque (1408 Beenleigh Rd, Kuraby) on Friday 14 March at 1:30pm and have your hair shaven or trimmed!
Support various Muslim community representatives who will also have their hair shaven.
You can also participate on the day! Donate any amount to the Leukaemia Foundation and have your hair shaven (or trimmed). Remember to bring along family and friends!
FACT: According to the Leukaemia Foundation, more than 3200 people are expected to be diagnosed with a form of leukaemia this year - equivalent to eight people every day.
We all know someone who has been affected by some form of cancer, and it is very important that we as an Ummah support any initiative that aims to improve the wellbeing of humanity. By donating to this worthy cause, we will be assisting with groundbreaking research that will hopefully lead to a viable cure for leukaemia, Insha Allah.
URGENT REQUEST: If any Community Representatives are willing to have their hair shaven or cut short on the day, please contact Muhammad Khatree on 0401 972 865.
For further information about this initiative, please contact Yusuf Khatree on 0401 246 228 or Muhammad Khatree on 0401 972 865.
PLEASE SUPPORT US BY DONATING AT