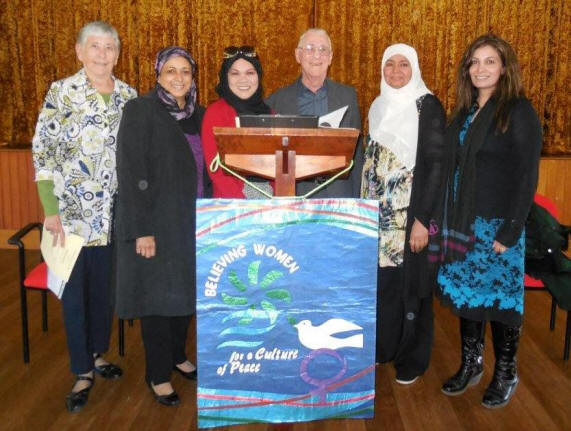 (l to r) Sr Wendy Flannery, Coordinator of BWCP, Fouzia Peer, member of BWCP, Nora Amath, Chairperson of BWCP, Rev Garth Read, President of NIG, Farkhanda Chaudry, founding member of Interfaith Scotland, Ghizala Avan, a psychologist with many years experience in community development in Scotland and internationally
"Love, Pray, Eat"….. the reverse order to Elizabeth Gilbert's best seller….. and the seventy people present at the Aspley Uniting Church on Sunday 29 June, the start of Ramadan, to hear from Glasgow-based Farkhanda Chaudry MBE, and Ghizala Avan of Interfaith Scotland and its affiliate Amina Muslim Women's Resource Centre, delighted in all three elements.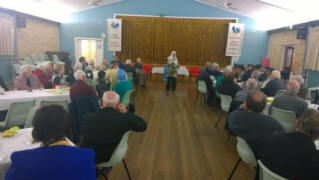 Brisbane-based multi-faith groups, Believing Women for a Culture of Peace and Northside Interfaith Group hosted the visiting speakers, briefly in Brisbane after facilitating a community cohesion process in New Caledonia. They were happy to have an opportunity to share their interfaith message and its power to influence community cohesion.

A sung 4-part greeting, based on religious affirmations from Muslim, Christian, Hindu and Jewish origins, exchanges of gifts, open sharing of the protocols of Ramadan and how we could all participate in the end of fasting at sunset, contributed to the accepting and loving ambience of the gathering.

Farkhanda spoke of the substantial influence and public voice which Interfaith Scotland has gained with various governance levels, as well as the wider community. The aims of the Interfaith Scotland council are to cultivate learning and dialogue among those with specific interfaith interests; to provide tools and pathways to bring this knowledge to other sectors and disciplines; and to promote education and awareness throughout Scotland. "Scotland interfaith Week" is a fine example of how much Interfaith Scotland has achieved since its beginnings more than a decade ago.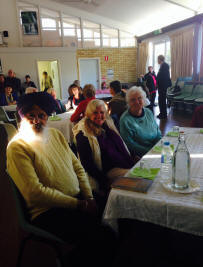 Ghizala's resource Centre aims to remove the oppression of "cultural stereotypes", especially the misunderstanding around the status of Muslim women. The Centre promotes the universal message of love – that we all have equal rights which are to be enjoyed through the diversity of our humanity. In her call to action to rid the world of violence against women, Ghizala quoted the UN Rapporteur for this action – that if the incidence of violence against women was regarded in the same way as an infectious disease, then the world would declare a pandemic and put in place emergency global resources to eliminate the "dis-ease".

At sunset, all were invited to join those ending the day's fast with dates and water, and to gather for prayer, in the room prepared for the purpose. A strong sense of spiritual connectedness and unity was strongly felt by the participants of whatever faith. The gathering concluded with a shared iftar meal and lively discussion of contemporary public concerns which faith communities are seeking to address, with very insightful responses from Farkhanda and Ghizala.