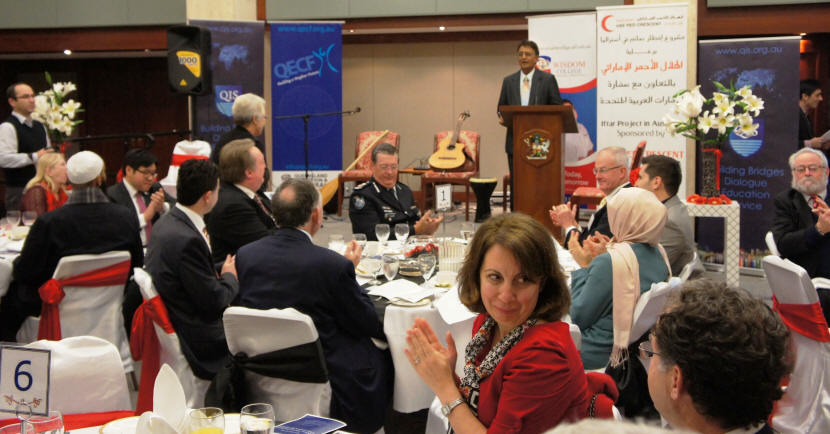 The Queensland Intercultural Society hosted its 7th annual ifthaar in Parliament House. Parliamentarians past and present, community leaders, academics, Imams and business leaders were in attendance.
Dr Mustafa Ally served as the Master of Ceremonies for the night, calling on the co-hosts, the The Hon Glen Elmes MP (LNP), Minister for Aboriginal and Torres Strait Islander and Multicultural Affairs and Minister Assisting the Premier, Mrs Desley Scott MP (ALP) and Mr. Abdul Celil Gelim, Executive Director of Queensland Intercultural Society to welcome their guests.
Imam Ahmed Abu Ghazaleh called the Adhan and recited a passage from the Quran. After Maghrib prayers were held in the hallowed halls of the Parliament Building, dinner was served.
Dr Tim Soutphommasane, the Race Discrimination Commissioner, delivered the keynote address after which the guests were treated to Turkish spiritual music by the Istanbul Goove.
This was followed by the 2014 QIS Community Leadership Award to Assoc Prof Mohammad Abdalla and the Queensland Public Service Award to Mr Bob Atkinson retired Police Commissioner.
Several guests took the opportunity to reflect on their experiences with the Muslim community and he evening concluded with a vote of thanks by former Speaker of the House, Mr John Mickel.