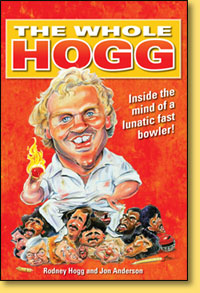 FORMER cricketer Rodney Hogg has apologised for an offensive Australia Day tweet aimed at Muslims, saying it was a poor attempt at Aussie humour.
At about midday on Australia Day, the ex-fast bowler wrote on his Twitter account, @RMHogg: "Just put out my Aussie flag for Australia Day but I wasn't sure if it would offend Muslims... so I wrote 'Allah is a s---' on it to make sure.''
He apologised about two hours later, writing: "Bad attempted Australian humour, sorry if I offended you.''
The original tweet was deleted shortly after.
He refused to comment to the Herald Sun, only repeating that "it was a bad attempt at humour''.
He later took to Twitter to apologise for a second time.
"My sincere apologies to the Muslim community. A stupid tweet by me in very bad taste," it read.
Cricket Australia said it was shocked by Hogg's attempt at humour.

"I almost fell off my chair when I saw it (the tweet) come up," CA spokesman Peter Young said.

"It was an extraordinarily offensive tweet. It was inappropriate regardless of whether it Australia Day or not.


Islam I'm disappointed firstly that he assumes Muslims would be offended by displaying the Australian flag, it's a complete misconception and it's sickening to assume that we are offended by any Australian symbolism.

Mohammed El-Leissy
"I do note that he has withdrawn that and apologised."

Islamic Council of Victoria community engagement officer Mohammed El-Leissy said he was disappointed by the comment which reinforced misconceptions about Muslims.

"I'm disappointed firstly that he assumes Muslims would be offended by displaying the Australian flag, it's a complete misconception and it's sickening to assume that we are offended by any Australian symbolism,'' he said.

"Australia Day does get hijacked by bigots, and instead of being a day when we celebrate our common bond to this land it can be used as a day to divide us.

"His comment about Allah is offensive and it's disappointing that someone with a public profile like that would go out on a day like today when Muslims are trying to celebrate with their fellow Australians and make hateful comments.''

Hogg's tweet also sparked an angry backlash in the twittersphere.

Ray S'noi @ozthai wrote: "You don't have to agree / follow someone else's religion but at least have the common decency to show some RESPECT'' and "Hogg , you are an ill mannered BIGOT''.

Anth @anth0888 tweeted: "You're a total w----r! That isn't Australian humor, it's racist & ignorant trash. Are you that dumb??? #stupidity #unaustralian''

Source: Courier Mail