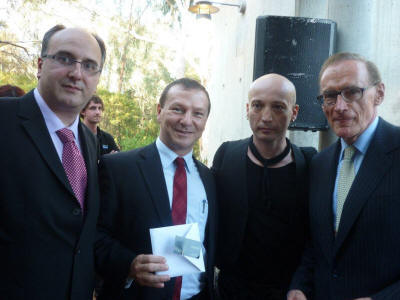 (left to right) Ambassador Damir Arnaut, Graham Perrett MP, the artist Adis Fejzic, and Foreign Minister the Honourable Bob Carr
At Parliament House on Tuesday, 12th March, the Federal Member for Moreton, Graham Perrett MP, joined together with the Minister for Foreign Affairs, the Hon Bob Carr, fellow parliamentarians and friends from the Bosnian Community including the Ambassador for Bosnia and Herzegovina, Damir Arnaut for the unveiling of a new sculpture at Parliament House by local artist Adis Fejzic.

With 7 January 2013 marking the 20th Anniversary of the establishment of diplomatic relations with Australia, the Embassy of Bosnia and Herzegovina set out to commemorate this occasion in recognition of the strong ties between the two countries.

Ambassador Arnaut embarked upon this initiative with a view that Australia's generosity to Bosnia and Herzegovina and its people, at a time "when we most needed it, merited not only a celebration, but a lasting memento."

"I was proud to stand with among such outstanding people to unveil a sculpture that will be a truly historic symbol to the strong relations we have with Bosnia and Herzegovina." Graham Perrett MP said.

"It is a privilege and an honour to share this occasion with the Bosnia and Herzegovina peoples and recognise the symbol of celebration between the nations."

The artist, Adis Fejzic (Addis) is a Bosnian-Australian artist from Queensland. During his studies at the well-respected School of Fine Art in Sarajevo that he was first recognised by his teachers for his exceptional artistic talents.

After completing his Bachelor and Master's degrees in Sculpture, Addis enrolled in the Queensland College of Arts. While completing his PhD, Addis is also working as a research assistant at Monash University.
The most significant depiction in the stone sculpture is one that the artist calls Abraham's Seals - comprising of the Star of David, a cross and a crescent - appearing as one and representing the multicultural and multi-religious Bosnia and Herzegovina.
Read more about the sculpture here.