Parliament House
The Queensland Intercultural Society (QIS) held its annual iftar dinner at Parliament House recently. It was co-hosted by Multicultural Affairs Minister Glen Elmes and Shadow Minister Desley Scott. There were over 140 attendees comprising business, religious and cultural leaders, academics, media representatives and the QPS.
The MC for the night was Mr. David Curnow from the ABC and the keynote speaker was Dr Asmi Wood.

Amongst the awards presented were the Public Service Award to Mr. John Mickel (former speaker of the House), the Community Leadership Award to Imam Ahmed Abu Gazaleh, the Interfaith Dialogue Award to Dr Brian Adams of the Griffith Multi-faith Centre, and the Media Award to ABC online editor Mr Scott Stephens.

"The attendees were most impressed with the organization and aim of the Ifthaar dinner," a spokesperson for QIS told CCN.
Gold Coast Mosque
Friday night's ifthaar was hosted by the Bond University Staff; Saturday's by the United Arab Emirates' Ambassador and Red Crescents; and tonight's (Sunday) will be hosted by the Bosnian community and an opportunity to raise funds for the Rochedale Mosque.
Over 1200 people attended the ifthaar sponsored by the UAE Embassy

(l to r) Hon.Stuart Robert (Federal MP Fadden), Faisal Al-Mazrouei (UAE Embassy) and Hussin Baba (ISGC-Secreatry)

(l to r) Snr.Sergeant William Lythgo, Inspector Damien Crosby, Acting Deputy Commisioner Peter Barron,
Faisal Al-Mazrouei (UAE Embassy), Hussin Goss, Hussain Baba, Ruhul Amin, Athar Shah, Tony Naji,
Abbas Khokhar and Superintendent Paul Ziebarth
Islamic Women's Association of Queensland (IWAQ)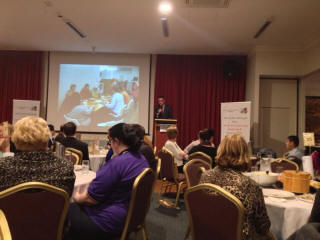 The annual IWAQ ifthaar was held at the Michael's Oriental Restaurant and sponsored by the UAE Ambassador and Red Crescents.