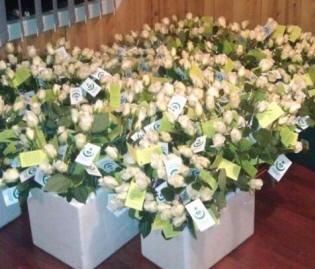 A four hour long rose preparation marathon was well worth it for the volunteers who gave up there time on Friday night to help prepare 2,000 Roses for Peace. This year sees the second year that Queensland Muslims have banded together to take steps to change the public's perception of Islam.

A team of 15 volunteers dressed in various shades of purple could be spotted around central Queen Street Mall on Saturday morning. Their aim: distribute roses for peace to the public.
Imam Ahmad Gazaleh summed it up "We do not want to convert people to Islam with this initiative; rather we want to convert their perception about Islam." Roses in hand, the volunteers enthusiastically began their mission. Along with the roses, white ribbons with the phrase "Islam supports non violence against women" were also distributed.

And just as enthusiastically, the passer-by's eagerly received their free roses; one lady so overwhelmed by the gesture that she hugged one of the volunteers and began crying, all the while saying how important it was to get this message out there. One hour later, and 2,000 roses less, all the volunteers were feeling positive that their efforts had been well received.

The organisers would like to extend a very big thank-you to all the people who were involved in this initiative – from all the donations, to the ladies and gentlemen who worked constructively on Friday night to get the roses ready for Saturday as well as the volunteers who helped with the distribution on Saturday morning.
"May Allah ta'Allah grant you the best of rewards for your efforts, insha'Allah," said a spokesperson for the organizing committee.
Check out the photos below to see what the volunteers got up to…