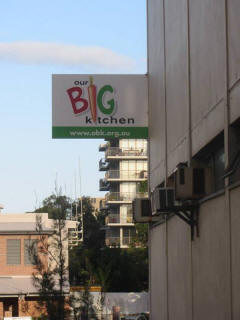 On 31 October members of the Emanuel Synagogue and the Zetland Mosque jointly cooked for those in need.
To mark the coming International Weekend of Twinning of Synagogues and Mosques, Jews and Muslims in Sydney, Australia, spent an evening together preparing meals for victims of recent bushfires, the homeless and others in need.

Jeremy Jones, Co-Chair of the Australian National Dialogue of Christians, Muslims & Jews, who participated in the 2013 Mission of Southern Hemisphere Muslim and Jewish leaders to Washington DC, said that baking bread, preparing vegetarian and fish curry and participating in a strudel-making master class was "a great recipe for friendship".

"We discussed Kashrut and Halal, commitments to help disadvantaged people, types of prayer, synagogue and mosque services, while slicing eggplants, dicing tomatoes, cubing salmon and chopping onions", Jeremy Jones noted.

Rabbi Jacqueline Ninio, who led the Jewish team consisting of members of The Emanuel Synagogue, stressed that "participants heard from each other of our common religious commitments to charity and treating each human being with dignity."

"We enjoyed working, and laughing, together, but most of all we enjoyed the opportunity to learn from and about each other", she added.

Sheikh Amin Hady, who led the Muslim team from the Zetland Mosque, said "The visit to Washington was inspirational and on my return I was committed to finding a project which could involve Muslims and Jewish Australians working together for the common good".

"This project was the first, but it will definitely not be the last" Sheik Hady, one of Australia's leading figures on interfaith dialogue, added.

During the evening, no topics were taboo and many of the participants took the opportunity to find out how others saw topical Australian issues, Middle East politics and the challenge of living religious lives in a secular environment.

The only stirring of the pot, it seemed, was by those mixing the curry, and the only heat added to that from the stoves and ovens was the warmth created by new friendships.

It wasn't as if there were no passionate defences of strongly held convictions, particularly when Jewish and Muslim supports of the South Sydney Rabbitohs Rugby League team encountered co-religionists who supported their arch- enemy, Eastern Suburbs Roosters, but in the spirit of the evening the former forgave the latter for their questionable judgement.
| | |
| --- | --- |
| The cooks | Rabbis Ninio and Slavin, Sheikh Amin Hady and his wife, Jeremy Jones |
| Also, food for thought | Preparing the vegetable for curry |