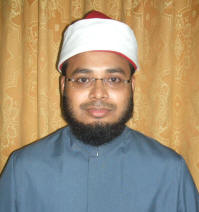 Imam Abdul Kader (pictured left) has been appointment by the Islamic Society of Toowoomba (IST) as the first formal Imam of the community

Imam Kader has served 7 years as an Imam in various countries including as the most recent Imam of the Darwin Mosque in the Northern Territories.

Imam Abdul Kader has a Bachelor of Arts in Exegesis (Tafseer) of the Glorious Qur'an from the oldest university of the world, Al-Azhar University, Cairo, Egypt.

He also has an MA Degree in Islamic Studies with distinction from the Loughborough University, UK and is about to complete his qualification as a Chartered Islamic Finance Professional from the International Centre for Education in Islamic Finance, Kuala Lumpur, Malaysia.

Fluent in both Arabic and English, Imam Abdul Kader is a member of the National Council of Ulema in Australia.
"With his depth of knowledge and interaction with Muslims of wide range origin he is well placed serve the fast emerging diverse community of Muslims in Toowoomba," Prof Shahjahan Khan of the IST told CCN.

Imam Abdul Kader is an official Celebrant of Muslim marriage and is experienced in providing Islamic counselling to individuals and families. He also worked with a large number of asylum seeking Muslims in the various detention centres of the Northern Territories.

Pending the settlement of the church property under contract to be the first Masjid in Toowoomba, Imam Abdul Kader will continue to lead the five times daily and Friday Jumma prayers at the University of Southern Queensland Islamic Centre.

The Toowoomba Muslims organised a 'Meet Our Imam' session on Friday, 29 November evening which was followed by a dinner at the Islamic Centre.

"Everyone in the community is invited to this event to get an opportunity to meet and know the new Imam in an informal environment," said Prof Khan.