PRE-REGISTRATION
It's going to be the one bloody party you really don't want to miss!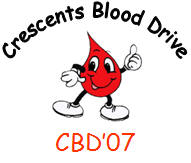 "Australia needs 20,000 blood donations every week to stay self-sufficient in blood (that's over one million donations every year). And considering over 80% of us will need blood or blood products in our lifetime, the life you save may be your own" (Australian Red Cross).

Following on from last year's successful effort, Crescents of Brisbane is once again organizing a blood drive to help alleviate the shortage that occurs around this time of the year.
In Islam, donating blood is an act of charity. It might save the life of a person who is in desperate need of it. Referring to this, Allah, the Almighty says: "…and if any one saved a life, it would be as if he saved the life of all mankind." (Al-Ma'dah: 32).

We have invited the Blood Bank to set up their mobile units on Saturday, 25 AUGUST at the Kuraby Community Hall and we are planning, with your help, a major campaign to encourage the Muslim and wider community to donate blood on the day.

Crescents of Brisbane will provide a free sausage sizzle (and other delights), giveaways and fabulous random draw prizes for everyone who registers and donates blood on the day.

Pre-register now and get your name onto the Crescents Hall of Fame.
A blood donor must be in general good health, weigh between 45kg - 120kg and be between 16 and 70 years of age. Check here to find out if you are eligible to give blood and then complete the form below.
The first 25 donors who pre-register online will receive a special gift from Crescents of Brisbane on the day.
Pre-registration form: Enter your details below and click on the Submit Form button at the end: