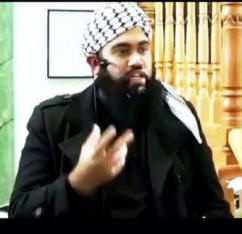 This will be the last month that Imam Akram Buksh will officiate as the Imam of Kuraby Mosque where he has served the Mosque for the past 8 years.

Next year he will begin his lifelong ambition to start his own full time Tahfeethul Quraan institution to be called the Quran Academy Australia. "Inshallah, my wish is that before I die I produce at least 100 high-quality, good mannered reciters of the Quran," he posted on Facebook.

"Alhumdulilaa it has been an amazing experience, wonderful community, a community that I will truly miss," he added. "I would like to thank the trustees of Kuraby Musjid for their support throughout the years, Alhumdulilaah they have treated me extremely well."

"Also I would like to say Jazaakallahukahirun to my wonderful Musalees of Kuraby Musjid , I truly love you all for the sake of Allah swt."

Imam Akram's Facebook page has been inundated with messages of praise and good wishes like:
Our community especially our children have been fortunate and blessed to have you as an Imam.


May Allah reward you greatly for what you have done so far and make your future endeavors even more rewarding. We will miss your beautiful reading of the Quran.


May Allah reward you abundantly. I became deeply attached to Islam since attending Kuraby Mosque, loved your Quran recitation and your short beneficial talks after taraweeh in the Ramadan of 2009. Thanks to you, jazaakAllah khayr.


Although it's sad you are leaving it's also good because this is your dream and you will be doing a great thing..I'd like to thank you for all your help and knowledge since my daughter and I took our shahada just over four years ago...It was by far the best decision I have ever made. May Allah bless you greatly in your new adventure.
One local community leader told CCN on hearing of the news of the impending departure of Imam Akram: "Just the other night after Maghrib when he (Imam Akram) gave his talk I just thought back of that time when he arrived that first Ramadan as a very young man and how over these years he has matured into such a fantastic leader of our youth and turned out to be probably one the best all round Imams for Kuraby."