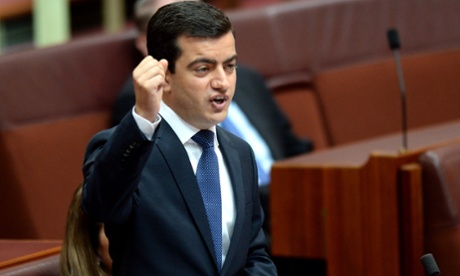 Senator Sam Dastyari delivers his maiden speech to the Senate in Canberra.
Australia's debate about asylum seekers lacks a real sense of compassion, the new Labor senator Sam Dastyari has declared in a speech condemning politicians for exploiting the public's "natural fear of difference".

In his first speech to the Senate, the former NSW Labor state secretary told of his own childhood journey from his birth country of Iran to Australia in 1988. Dastyari said his parents, Naser and Ella, were student activists expelled from university for joining the Iranian revolution and they had friends who were imprisoned, tortured or even killed. He said the Shah fell in 1979 but Ayatollah Khomeini's return from exile saw a secular political tyranny replaced by an oppressive religious one.

"Fighting erupted along the border with Iraq in 1980 and three years later I was born in a country at war. I was born in Sari, a town in northern Iran, near the Caspian Sea, and on the edge of what was then the Soviet Union. Funnily enough, my only memories of Iran are of a peaceful childhood, playing football in the streets with neighbourhood children, in the same way as I would have played cricket if I had been in Australia," he told the Senate on Wednesday.

"But what I didn't know as a child was that my parents were consumed by fear of what the future would hold. I can only imagine their relief when, after years of anxiety, they learned that they had been granted visas to migrate to Australia."

Dastyari said the family, including his nine-year-old sister Azadeh, boarded a train to Tehran in January 1988 and embarked on two days of continuous travel to reach Sydney. The plane brought them to "a place of genuine hope and tremendous opportunities" – a far cry from the war-torn homeland. Dastyari recalled starting his schooling in Blacktown in western Sydney without knowing a word of English. His parents worked hard – his dad drove a taxi and the entire family worked in its small cake shop. His older sister went on to become a Fulbright scholar, an accomplished lawyer and a respected academic.

Dastyari highlighted his experience as he argued thousands of Australians had taken a similar journey and no one should forget how lucky they were to live here. He offered a broader critique of both major parties' handling of refugee policy since John Howard turned away the Tampa in 2001 – an action he said "appealed to the worst in all of us".


The fact is, this incredible country is a beacon to people everywhere, and surely we can not only understand that, but in fact feel a sense of pride that people see us as a place of hope

Sam Dasyari

"It may have helped him win the 2001 election, but it hardened my resolve, as a then 18-year-old living the Australian dream in Sydney's north-west. Twelve years on and we have not made nearly enough progress. The rhetoric of our national discussion about the so-called 'boat people' still lacks a real sense of compassion," he said.

"That is why I believe it is time for us to have a real conversation in this country about asylum seekers – a conversation that isn't about the number of boats but about the names, faces and stories of the people they bring; a conversation that isn't about how we stop the boats, but about what we can do to improve the situation of those so desperate that they consider getting on boats in the first place. It is far too easy for us as politicians to exploit our communities' natural fear of difference and of change. I honestly believe we can do better."

Dastyari – a NSW Labor Right powerbroker who was part of the push to reinstall Kevin Rudd as leader earlier this year – said politicians should be the voice of those who could not always speak for themselves and had a "duty to do not just what is easy or popular but what is right".

The Tony Abbott-led Coalition made its "stop the boats" pledge a central part of its election pitch, and has since implemented a military commander-led operation to intercept and deter asylum seeker vessels. The Coalition has repeatedly attacked the first Rudd government for unwinding the Howard-era asylum policies. Rudd followed up his return to the prime ministership in June with a tough new position, announced in July, to send all boat arrivals to Papua New Guinea or elsewhere for processing with no prospect of settlement in Australia even if their refugee claims are found to be genuine. Both parties have argued they are motivated by the legitimate desire to prevent drownings at sea.

Dastyari did not comment in detail on these policies but said Labor was not the reason people risked their lives to come to Australia and the Coalition was not the reason people waited for 20 years in refugee camps. "The reason is the hope of a better future that this country has to offer for a persecuted people and their children. The fact is, this incredible country is a beacon to people everywhere, and surely we can not only understand that, but in fact feel a sense of pride that people see us as a place of hope," he said.

He said his own party's history of support for the White Australia policy right up to the 1960s was "part of that story"

Calling for a "big Australia" and a recognition of the nation-building role of immigration, Dastyari said politicians had grandstanded and attempted to divide the population for more than 100 years. He said his own party's history of support for the White Australia policy right up to the 1960s was "part of that story".

In August, in the lead-up to the election, Dastyari told Guardian Australia he thought the party had "got it right" on the Papua New Guinea deal "but you've got to be careful that you're not playing politics in the lowest common denominator". In October, the former foreign minister and fellow NSW Labor Right figure Bob Carr warned the party not to allow itself to be "wrong-footed" on asylum policy. Resigning from the Senate, Carr urged his colleagues to stick with the PNG deal because the Australian people would "never accept a situation where 20% of the total migrant intake [was] brought to Australia by people smugglers".

Dastyari was appointed to the Senate to fill the casual vacancy left by another former NSW general secretary, Matt Thistlethwaite, who moved to the lower house seat of Kingsford-Smith. Abbott has previously described Dastyari as "the ultimate faceless man".


The Guardian