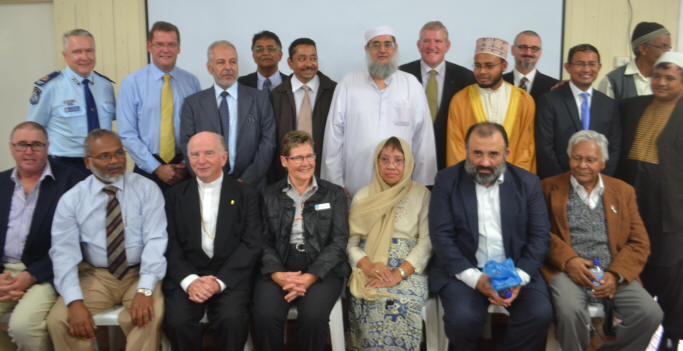 From right (sitting) Mr Darby McCarthy (Aboriginal Elder), Mr Keysar Trad (Islamic Friendship Association), Ms Agnes Whiten (Chair, Ethnic Communities Council of Qld) Mr Ros Scotney (Toowoomba Regional Council representing Mayor Paul Antonio), Bishop Robert McGuckin (Catholic Church, Toowoomba), Prof Shahjahan Khan (President, Islamic Society of Toowoomba), Mr Ian Rosenberger (Church neighbour for over 50 years)
(Standing) Dr Abul Jalaluddin (Director, Muslim Community Cooperative, Melbourne), Prof Ken Udas (Deputy VC representing Vice Chancellor Prof Jan Thomas of University of Southern Queensland), Imam Abdul Kader (Garden City Mosque, Toowoomba), Hon Ian Macfarlane MP (Federal Minister of Industry), Imaam Yusuf Peer (President, Imam Council Queensland), Dr Md Shahiduzzaman (Secretary, Islamic Society of Toowoomba), Dr Mustafa Ally OAM (President, Crescents of Brisbane), Mr Hafez Kassem (AFIC President), Hon Dr John MeVeigh (Minister of Agriculture Queensland) , and Asst. Comm. Tony Wright (Queensland Police)
"Alhamdulillah, Allah granted us a very successful Opening Ceremony of the first Masjid in Toowoomba in spite of heavy rain until early afternoon," Prof Shahjahan Khan, president of the Islamic Society of Toowoomba (ISOT) told CCN during the week.

"I believe the rain was a test from Allah (SWT) to see the strength our faith in Him and to re-assure that everything in His hands," he added.

The day marked the formal recognition of the presence of the Muslims in their place of worship in the city of Toowoomba.

There wasa diverse variety of delicious food prepared and sold by various communities and businesses based in Toowoomba, Brisbane and Gold Coast.

"My special thanks to those who cooked the food, help managed parking, set up and closed tents, decorated the hall, prepared the sound system, cleaned all rubbish, managed the stalls, and welcomed all non-Muslims," Prof Khan said.
Unfortunately, the rides for the children were cancelled on account of the wet weather but the activities for women and the henna decoration stand were very popular.

The Opening Ceremony function started with the recitation of the Holy Qur'an by Hafiz Abdulatif Alammar with an English translation.

Imam Abdul Kader of the Garden City Mosque, Toowoomba was the Master of the Ceremony.

Shukria duwa was led by Imaam Yusuf Peer, President of Queensland Imam Council.
Mr Darby McCarthy, Aboriginal elder of Toowoomba welcomed the first Mosque in Toowoomba.

Mosque project highlights and the vote of thanks were offered by Prof Shahjahan Khan, President of Islamic Society of Toowoomba Inc.

Other speakers of the day were Cr Ros Scotney, representing Mayor Cr Paul Antonio of Toowoomba Regional Council, Mr Ian Rosenberger, Church associate for 50 years and neighbour, Dr Abul Jalaluddin, Director of Muslim Community Cooperative of Australia, Melbourne/Sydney, Bishop Robert McGuckin, Catholic Church of Toowoomba, Mr Keysar Trad, Islamic Friendship Association, Sydney, Dr Mustafa Ally, Peoples of Australia Ambassador and president of Crescents of Brisbane, Prof Ken Udas, DVC of USQ representing Vice Chancellor Prof Jan Thomas, Assistant Commissioner Tony Wright representing the Commissioner & Qld Police Service, Ms Agnes Whiten, Chairperson, Ethnic Communities Council of Queensland, Brisbane, Hon. Dr John McVeigh, Qld Minister of Agriculture, Fisheries and Forestry representing the Premier of Qld, Mr Hafez Kassem, President of AFIC, Peak body Australian Muslims, Sydney, and Hon. Ian Macfarlane, Federal Minister of Industry, Toowoomba/Groom MP.

Australian style barbeque sausages with bread rolls were prepared under the stewardship of Br Muhidin Hadzich and his family. He organised Bosnian bread from Gold Coast to add variety and diversity of taste to the food of his stall. Br Imam Macfudi and Prof Don McMillan took charge of the Indonesian stall with colourful decoration and food. There were many non-Muslims alongside their Muslim friends working in the stall, to help prepare and sell the food. The famous Indonesian sate dishes were very popular with the visitors. Br Mohammad Saifuddin and Br Yahya Anderson ran the Malaysian stall with varieties of main course and snack food. A local business managed by Br Mohamed Ismail provided Sunshine Kebabs-styled food in his stall. Bangladeshi-styled rice and beef curry along with different snacks and sweets were prepared and sold by Dr Mainul Islam, Dr Moazzem Hossain Khan, Dr Mafizur Rahman, Mr Delwar Hossain and many other volunteers. Some brothers from Gold Coast sold tasty chilli Biryani in their stall.

A stall was run by the Islamic Society of Toowoomba which served mainly as an information centre but also sold some snacks and soft drinks. This was managed by Sr Amahl Bruce, Br Athif Hameed and Sr Alina Hameed. A book was opened for feedback and comments in this stall. A donation box was also set up here for gold coin donations and other contributions to the Mosque.

"May Allah make this Masjid a source solvation for the residents of the region and glue the hearts and minds of all Muslims living in and around Toowoomba," said Prof Khan at the conclusion of the ceremony.
The opening day received comprehensive coverage in the local Toowoomba Chronicle newspaper.
| | |
| --- | --- |
| | |
| | |
| | |
| | |
| | |
| | |
| | |