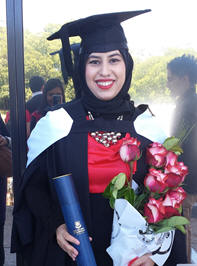 The Future Leaders program at the University of Queensland (UQ recognizes graduating students who have gone beyond their typical program of studies to make a positive impact on campus, their community and even the world. From nearly ten thousand new graduates each year, only a few hundred (that is, about 2 percent of all UQ graduates at any given year) are chosen for demonstrating a superior commitment to leadership, representing.

This group is underpinned by a broad definition of extracurricular leadership including high achievers, ambassadors, student leaders, mentors, valedictorians, volunteers, philanthropists, emerging researchers, executive board members and world-class athletes.
Members can be as diverse as student presidents leading a large club, emerging researchers promoting their advancements around the world and philanthropists inspiring their colleagues through fundraising and volunteerism efforts. Ultimately this group represents a collection of UQ graduates who we believe will become the influential leaders of our future.

One such student, who was awarded this prestigious award on completion of her double degree (Biomedical Science & Arts), is Kuraby resident, Nabeela Cassim.

Upon graduating, Nabeela also received the UQ Advantage Award. This award is awarded to students who in addition to their degrees have demonstrated qualities in the following areas: Social Responsibility & Leadership, Global & Cultural Engagement and Research & Entrepreneurship.

Some highlighted aspects of the awards include her participation in Australian Indigenous Mentoring Experience (AIME) - an engaging program that highlighted the importance of understanding Indigenous people and their culture.
Nabeela told CCN: "Mentoring university and school students is of utmost importance to me, as I believe the youth of today face so many challenges, not only Muslim students but students from all nationalities and diverse backgrounds."
In addition; Nabeela also participated in the Australian Anthropology Conference where she was the head volunteer representing students at UQ. She also undertook research at the School of Chemistry and Molecular Biosciences and is an active member of a number of student societies on campus/volunteer organisation.