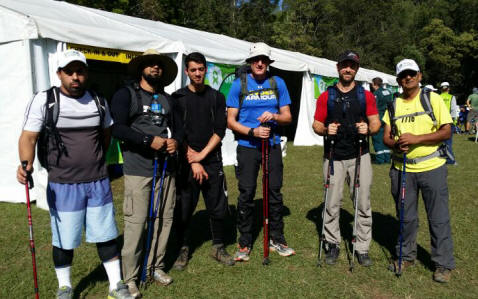 (l to r) Ali Ghafoor, Yaseen Sarfudin, Tahir Abdool Gaffoor, David Forde, Shane Johnson and Mustafa Ally on their way to the finish. Nabil Casoojee and Hamid Kassim were the other two members of the teams.
Two teams of four (DATSIMA and COB2014) started out on the 100km Oxfam charity trailwalker from Mt Glorious to Mt Coot-tha on Friday 20 June
The gruelling and bruising rugged terrain was covered in 33 hours by the two teams through the day and night, ending yesterday (Saturday) evening at Mt Coot-tha's JC Slaughter Falls rather worse for wear.
In addition to already raising $3000 for Oxfam, one of the outcomes from the participation of these two teams is to raise funds for a six month sustainable development Vocation Education and Training project, for 45 displaced women in the Babussalam Refugee Camp, Syria.
A spokesperson for the teams thanked the many who have already donated to the cause as well as their support crews of Bilal and Taufan, and Nazima and Riyaad.
If you would like to donate to the project in Syria, please consider donating: $20 or $50 or $100 or any other amount (big or small).

Bank Transfer:

Account Name: Muslim Charitable Foundation
Bank: Bank of Queensland
BSB Number: 124155
Account Number: 20897392
For reference: Trail/Your name (and the letters 'RR' if you require a tax receipt)

For further information call 0402 026 786.