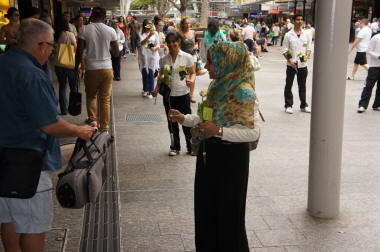 At around 11am yesterday (Saturday) a group of some 20 men and women from the Brisbane Muslim community handed out a thousand white roses to the public in the Queen Street Mall outside the Myer centre.
Each rose carried with it a card with a quotation from George Bernard Shaw on Islam and a message that conveyed the compassionate and peace-loving nature of the Prophet Muhammed (PBUH).
"This initiative was aimed at demonstrating, in a very positive and peaceful way, our objection to the false messages that the video, Innocence of Muslims, was sending out and in so doing provide an alternative viewpoint," one of the organizers of A Rose for Peace and Harmony, told CCN.
"We felt there was no better way to do this than by using the rose as the universal symbol of peace and harmony," she added.
"Brisbane has now joined with the other cities of the world, like London, Birmingham, Oslo, Auckland, to use the rose as a way of affirming the tenets of peace, goodwill and harmony that were the legacy of the Prophet (PBUH)."
Also present to observe the handing out of the roses was Minister for Minister for Aboriginal and Torres Strait Islander and Multicultural Affairs, Greg Elmes, In a media release issued the day before, the Minister lauded the effort of the Muslims of Queensland and encouraged all Queenslanders "to look beyond the minority (of violent protestors) and to see the positive benefits which the vast majority of migrants bring to our state."
The gesture was overwhelming well received by the passers-by who stopped, chatted, complimented and asked questions.
Once such recipient, Dominque, emailed afterwards with the comment: I was in the Queen Street Mall today and received a white rose from you. I just wanted to say thank you! It has really made my day.
Photo Gallery
Roses for Peace & Harmony