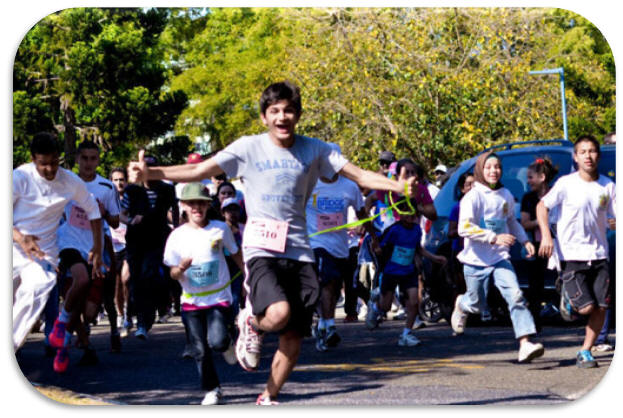 The 9th annual Fun Run, the flagship event of Crescents of Brisbane, saw over 350 men, women, boys and girls of very diverse backgrounds take part in CresWalk2012 at Orleigh Park, West End.
All finishers were presented with a CresWalk2012 finisher's towel and there were a host of random draw prizes that included a two night's stay at the Hilton Apartments in Surfers Paradise.
The Haje Ebrahim Patel/Crescents of Brisbane Special Achievement Award for 2012 was awarded to Imam Abu Ahmad Ghazaleh by Kemal Omar of Crescents of Brisbane who spoke of Imam Ghazaleh's long and generous involvement with the community.
CLICK HERE FOR YOUR RACE TIMES
If you cannot remember your race number email theteam@crescentsofbrisbane.org
Include your full name and race category
On this year's CresWalk 2012 winners' podium were:
| | | | |
| --- | --- | --- | --- |
| CATEGORY | WINNERS | CATEGORY | WINNERS |
| Pram/Wheelchair Male 5km | Yashin Latiff | 11-15 yrs Male 5km | Waleed Rane |
| Pram/Wheelchair Female 5km | Sara Rane | 11-15 yrs Female 5km | Ayesha Baiguni |
| Under 11 yrs Male 2.5km | Lars Forsingdal | 16-29 yrs Male 5km | Abdur Rahman Abdallah |
| Under 11 yrs Female 2.5km | Mia Forsingdal | 16-29 yrs Female 5km | Fatima Hassan |
| | | | |
| --- | --- | --- | --- |
| CATEGORY | WINNERS | CATEGORY | WINNERS |
| 30-45 yrs Male 5km | Shafieq Adam | 60-69 yrs Male 5km | Mohammed Noor Osman |
| 30-45 yrs Female 5km | Soraya Khan | 60-69 yrs Female 5km | Sarah Seedat |
| 46-59 yrs Male 5km | Anver Omar | 70+ yrs Male 2.5km | Safet Avdich |
| 46-59 yrs Female 5km | Shireen Seedat | 70+ yrs Female 2.5km | Amira Abdullah |
For all the images of the day captured brilliantly by Zakariyya Paruk
visit