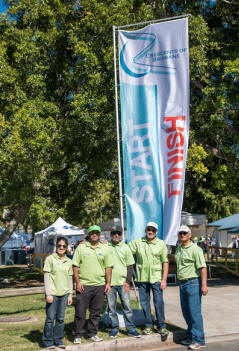 This year's CresWalk took place at Orleigh Park on Sunday 4 September. On a brilliant Spring day, men and women of all ages, and young boys and girls took to the road along the Brisbane River.
They returned to the Park for the signature CresWalk burger and breakfast and activities that included tug-of-war and rock climbing,
Crescents of Brisbane team member, Kemal Omar, presented the Haji Ebrahim Patel/Crescents of Brisbane Special Achievement Award to David Forde for his contribution to the Muslim community over the years.
Mr Forde told CCN soon after receiving the award: "I want to take this opportunity to thank the Crescents of Brisbane Team for the Annual Haji Ibrahim Patel Award. It certainly was a very humbling experience and congratulations on another very successful Creswalk. There are so many people out there who contribute to improve and work with and for individuals and the community for which we live. It's about all of us doing what we can. I also wish your readers Eid Mubarak for Eid-ul-Adha."
During the presentations, Susan Al-maani gave an overview of the work that her organization, SAKINA, was undertaking to help women victims of domestic violence, and Fahim Khondaker spoke on the role of the Islamic Council of QLD (ICQ) in the community. Crescent Wealth donated five $100 gift cards to the random draw segment of the presentations.
If you would like to know more about SAKINA or contribute to the cause visit their gofundme page.
Crescents of Brisbane's secretary, Hafizah Suleman and Raeesa Banwa were the MC's for the day and Saleem Cajee delivered the vote of thanks. Imam Imraan Husain of the Gold Coast Mosque led the opening and closing prayers.
THE CRESWALK2016 WINNERS' PODIUM
| | |
| --- | --- |
| Pram/wheelchair (5km) MALE | MURAT COSKUN |
| Pram/wheelchair (5km) FEMALE | HACER AHMETOGLU |
| Under 11yrs (2.5km) MALE | SUHAYL SEEDAT |
| Under 11yrs (2.5km) FEMALE | ZAHRA TOWNER |
| 11-15yrs (5km) MALE | ZAINUDDEEN HUSAIN |
| 11-15yrs (5km) FEMALE | MIA FORSINGDAL |
| 16-25yrs (5km) MALE | MOHAMMED HERSI |
| 16-25yrs (5km) FEMALE | SURAYA NAJIB |
| 26-39yrs (5km) MALE | OMAR ISSADEEN |
| 26-39yrs (5km) FEMALE | SYLVIA LYNN |
| 40-59yrs (5km) MALE | ANVER OMAR |
| 40-59yrs (5km) FEMALE | SHAREEN FORSINGDAL |
| 60-69yrs (5km) MALE | MAHMOOD SURTIE |
| 60-69yrs (5km) FEMALE | SHIREEN SEEDAT |
| 70+yrs (2.5km) MALE | MAHOMED SEEDAT |
| 70+yrs (2.5km) FEMALE | AMIRA ABDALLA |
| Under 7yrs (2.5km) MALE | RIORDAN FORDE |
A snapshot of the day, courtesy of Ameen Sompra