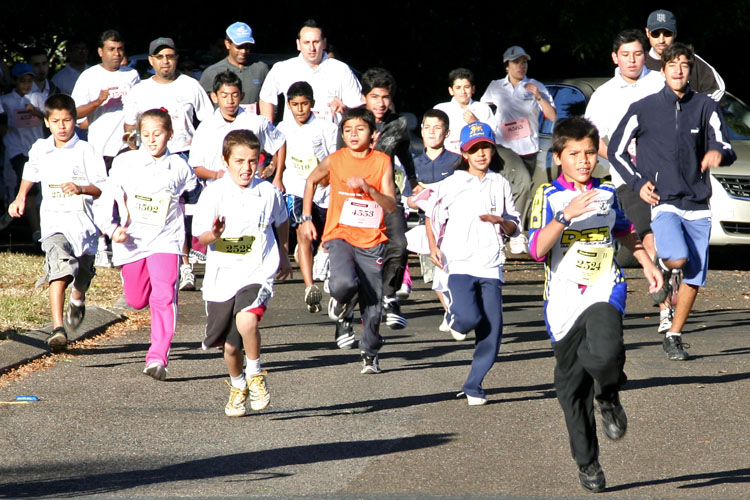 Over 550 walkers and runners took to the Riverside Drive from Orleigh Park braving a somewhat chilly and windy May morning start.
And it was all worth the while as the sun broke through and the tug-of-war and rock climbing got underway soon after the run. As for the breakfast, it certainly was worth getting up early for!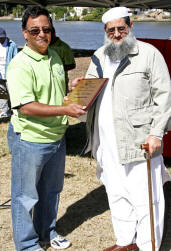 The Crescents of Brisbane Team presented Imam Yusuf Peer with the 2008 Special Achievement Award.
The award was presented with these words of acknowledgment.
Feedback
The ladies of IWAQ:
At our staff meeting yesterday, IWAQ staff who participated gave feedback on the Creswalk event to other staff who were unable to participate and to this end IWAQ staff would like to congratulate CoB and say thank you for this event. It was a very positive event to promote health and fitness. Due to prior commitment (operational planning following the strategic planning day where 25 staff and Management Committee were involved), a number of IWAQ staff could not come but some came back especially to participate.
Thank you to all the team who organised the event.
Garry Page, Executive Director of Multicultural Affairs Queensland:
We very much enjoyed the morning and opportunity to speak with .... a large range of other people who attended. Congratulations on a wonderful and very well run (my pun of the morning) event.

When asked what were some of the highlight's of CresWalk2008 these were just some of the responses:
Overall feeling of community

Commemoration of Haji Ebrahim Patel
Everything was enjoyable

The walk itself was just too good!

The guest speaker/runner - inspirational!
Rock wall

The Tug-Of-War

Food was very very good

Kiddies Events

Good mix of people
The atmosphere

The presentation was entertaining
Enjoyed the whole event as per previous years
It being my first one it was fun!

The support of the community
Acknowledging community leaders & award
Social Interaction
The medals this year were "user friendly"
The Winners
| | | | | | |
| --- | --- | --- | --- | --- | --- |
| CATEGORY | | WINNER | CATEGORY | | WINNER |
| Pram/Wheelchair | Male | GRAHAM PERRETT | 26-39 yrs | Female | SHAHARAZAAD GAFFOUR |
| Pram/Wheelchair | Female | SAHAR RANE | 40-59 yrs | Male | ANVER OMAR |
| Under 11 yrs | Male | MAHMOUD ABDALLA | 40-59 yrs | Female | SURAYA KHAN |
| Under 11 yrs | Female | NADHIAH MOHAMED YUSOF | 60-74 yrs | Male | SULIMAN SABDIA |
| 11-15 yrs | Male | ABDUR RAHMAN ABDALLA | 60-74 yrs | Female | MARIAM BISEVAC |
| 11-15 yrs | Female | AMMARA DOOLABH | 75+ yrs | Male | HAROON ABDUL LATIFF |
| 16-25 yrs | Male | AHMED ABOU EL YAZID | 75+ yrs | Female | ZULEIKHA HASSAN |
| 16-25 yrs | Female | RAEESA KHATREE | Fastest Finisher | Male | GERRARD GOSENS |
| 26-39 yrs | Male | GERRARD GOSENS | Fastest Finisher | Female | RAEESA KHATREE |