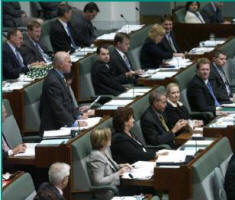 The Hitchhiker's Guide to the Australian Parliament House
(or Know Your Government 101)
by CCN political correspondent Felicia Mabusa-Blunt (whose close encounters with that other bastion of democracy across the Indian Ocean gives her a distinct edge over the rest of us neophytes)
If you don't know a Double Dissolution from a Didgeridoo then this is the very column for you.
Each week, inshaAllah, CCN will give you one bite size, digestible chunk of the inner workings of your Parliament in Canberra.
We start with a private Member's bill, since it has been in the news a fair deal this week what with four Liberal MPs challenging their own leader, John Howard, over their party's treatment of detainees.
In addition to 'rubber stamping' Government legislation, the rules of the House of Parliament also provide opportunities for private Members to initiate legislation and motions for debate (during private Members' business) and to make speeches on topics of their own choice—they can propose and discuss matters of individual concern regardless of whether the Government has any related items on its agenda.
What is a private Member? A private Member (also called a 'backbencher') is any Member of the House other than the Prime Minister, the Speaker, a Minister or Parliamentary Secretary.

Felicia thinks:
Despite the Howard majority in Parliament, organizations can still lobby their local MPs to use this avenue of the private Member's bill to keep issues that concern our community alive.