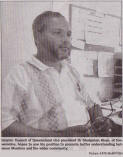 The Toowoomba Mail reports on a Muslim on a Peace Mission
Newly elected Vice-President of the Islamic Council of Queensland, Dr Shahjahan Khan, recently spoke to Toowoomba's Mail about the machinations that have driven the rise in terrorist activity.
He expressed his regret and anger at the recent terrorist attack in Indonesia. "Every time we progress a step forward for peace, something happens to push it back", Dr Khan said. He believes religion is wrongly being used as a pawn by some Western governments to justify the imposition of foreign policies and occupation in Islamic countries around the world.
He urged the local community not to vilify Muslims because of the actions of a few extremists abroad, and to look beneath the surface at the ongoing issues fertilizing the root of terrorism.
Dr Khan described Government initiatives such as mandatory detention and proposed new anti-terrorism laws as "temporary pain relief".
"If someone wants to kill him or herself, there is really nothing anyone can do to stop them, " he said. "We need to address the real root cause that is producing people that are willing to sacrifice themselves, and what has brought them to value their life as zero.
Dr Khan hopes to use his position on the ICQ to promote understanding between Muslims and the wider community. As part of his new role, Dr Khan also hopes to bring unity to the many fragmented Muslim communities state-wide and address issues directly impacting Muslims in Australia, "outside the media and outside terrorism".
In particular he would like to see Muslims given more freedom to deal with family and social issues such as divorce, family inheritance and burial arrangements within and Islamic framework.
While this already occurs to a degree in a private capacity, Islamic family law is not formally recognized by the State Government.
Rather than creating division, when it comes to these issues, Dr Khan believes allowing Muslim a level of religious autonomy would ultimately lead to a more peaceful co-existence.