Sunday, 16 April 2006

Newsletter 0075

لسلام عليكم
Ahmed Peer sporting this year's new-styled CresWalk2006 T-Shirt

This is a gentle reminder to get your entry forms in by the closing date Sunday 23 April.

You can register online or hand your form in at the Crescents Coffee 'n Cake Stall at the Kuraby Madressah BBQ on Sunday 23 April at Svoboda Park, Kuraby.
Dinner Funds Flow for Cyclone Victims
Close to $100,000 was raised in three hours on a night that will be remembered as much for the generosity of Brisbane's Southsiders as it will be for the congenial atmosphere in which the multicultural groups interacted.
In a show of community unity more than 360 people, including members of Muslim, Jewish, Catholic and Buddhist groups, came together under one roof at Michael's Oriental in Eight Mile Plains to lend support to the cause. Retired armed forces chief General Peter Cosgrove took time from a busy schedule coordinating operations in Innisfail to attend the function as its keynote speaker and guest of honour.
Organizer, David Forde, said that total sum raised was out of takings from the sale of dinner tickets, raffles and the auction, together with a $20,000 donation from the National Australia Bank.
The highest auction bid on the night was $10,000 for the chance to have ABC 612 Radio presenter Kelly Higgins-Devine broadcast live from the bidder's home.
Kuraby Mosque interrupted its own fund drive for air-conditioning at the Mosque to collect towards the victims of the cyclone. Mosque Trustees, Imraan Nathie, and Mohammed Said Dawoodjee came up on stage and handed over an amount of $5,000 to General Cosgrove. The children of the Kuraby Madressah collected $1,000 which Principal Ahmad Ghazaleh and Madressah Board Member, Farouk Adam, presented to General Cosgrove. Islamic School of Brisbane's Principal, Dr Noor, donated $1,700 on behalf of the children of his school. Sultan Deen gave $1,000 on behalf of the Deen family. Crescents of Brisbane delivered a cheque of $2,500 on behalf of an anonymous donor.
Michael's Oriental Restaurant

National Anthem by Kuraby State School

Crescents of Brisbane

Kuraby Mosque

Muslim Business Network

The Deen Family

General Peter Cosgrove

David Forde, with more than a touch of the Blarney!

Traditional didgerido-er didgerrido-ing

Cosgrove cosying up to Crescents

The Imam and The General

Donation from the children of Kuraby Madressah




Yasseen and Anas "Dancing with the Stars"

(To repeat video clip click image or right-mouse-click and play)

If you have difficulties viewing this clip then try clicking here.
David Forde must surely have kissed the Blarney Stone on more than one occasion to have been able to bring such a diverse group of people together as successfully as he did. The negotiation skills, tact, diplomacy, dexterity and deftness that this would have required puts him, in our humble assessment, in line for a significant role in the political arena, if only the words of an Irish bard of the early nineteenth century, one Francis Sylvester Mahony, ring half true:
There is a stone there,
That whoever kisses,
Oh, he never misses
To grow eloquent.
'Tis he may clamber
To a lady's chamber,
Or become a member
Of Parliament.

In CCN0071 we reported on a Distance Learning Program being conducted by the Al-Ghazzali Centre for Islamic Sciences & Human Development.
To date only two expressions of interest have come from Queensland. For the programme to be offered in this State, a group of at least 5 is required. All the other states are up and running and Queensland is at risk of missing out this time.
If you are considering doing the course contact the Centre as son as possible.
''Innaa lillah hi wa Innaa ilay hi Rauji'oon''
To Allah do we belong and to Him is our return
We note with sorrow the passing away of Ms Razia Abrahams, the elder sister of Zubeida and sister-in-law of Kemal Omar in Johannesburg on Sunday last week.
May Allah (SWT) grant the Marhooma forgiveness and janaat-ul-firdous, insha-Allah.
by CCN's Flying Dutchman - the Deen at the Scene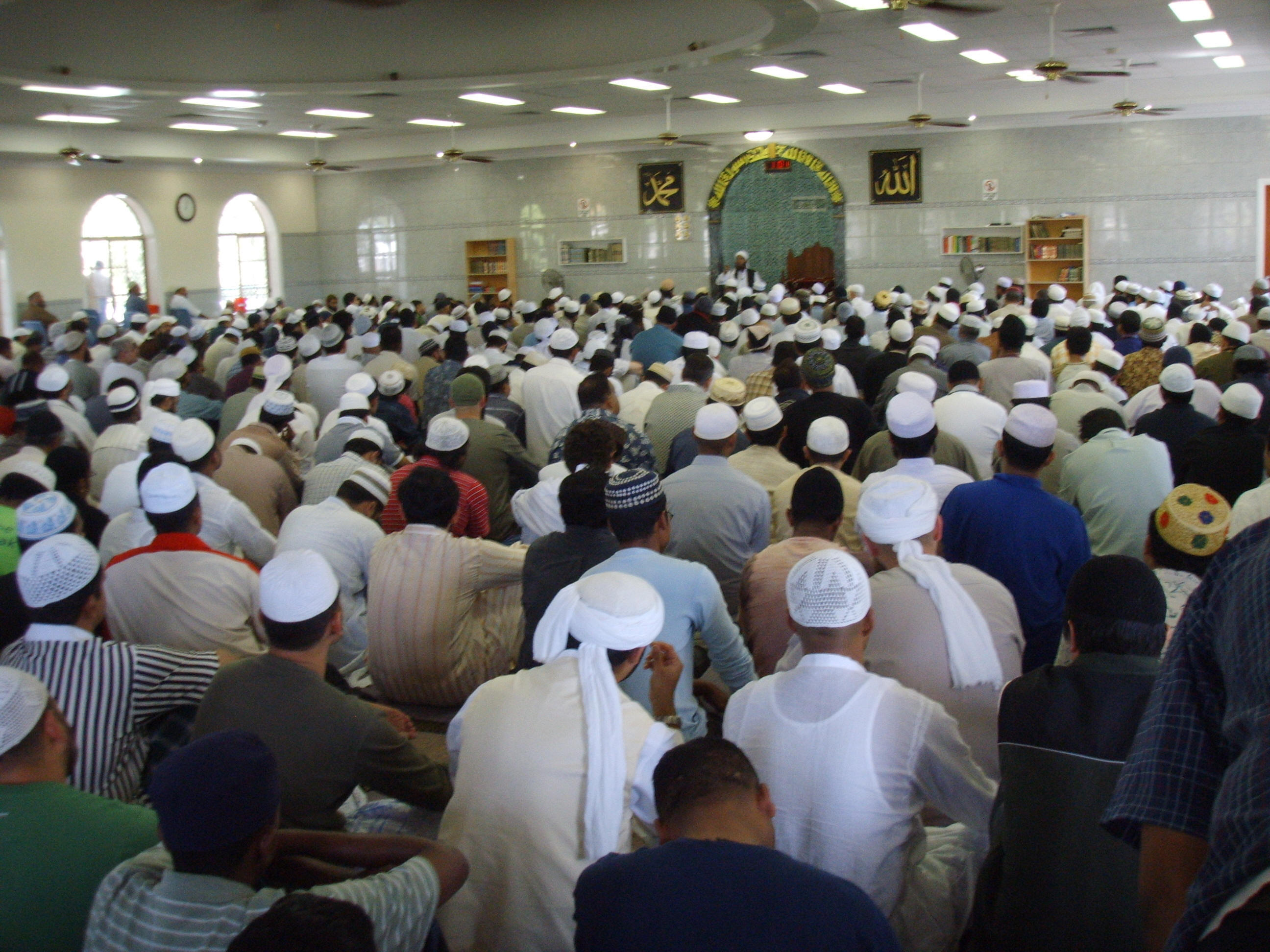 While the proceedings for the long weekend were only scheduled to kick-off after 4pm on Friday, some 1500 had already arrived at the Darra Mosque in time for Jumma Salaat.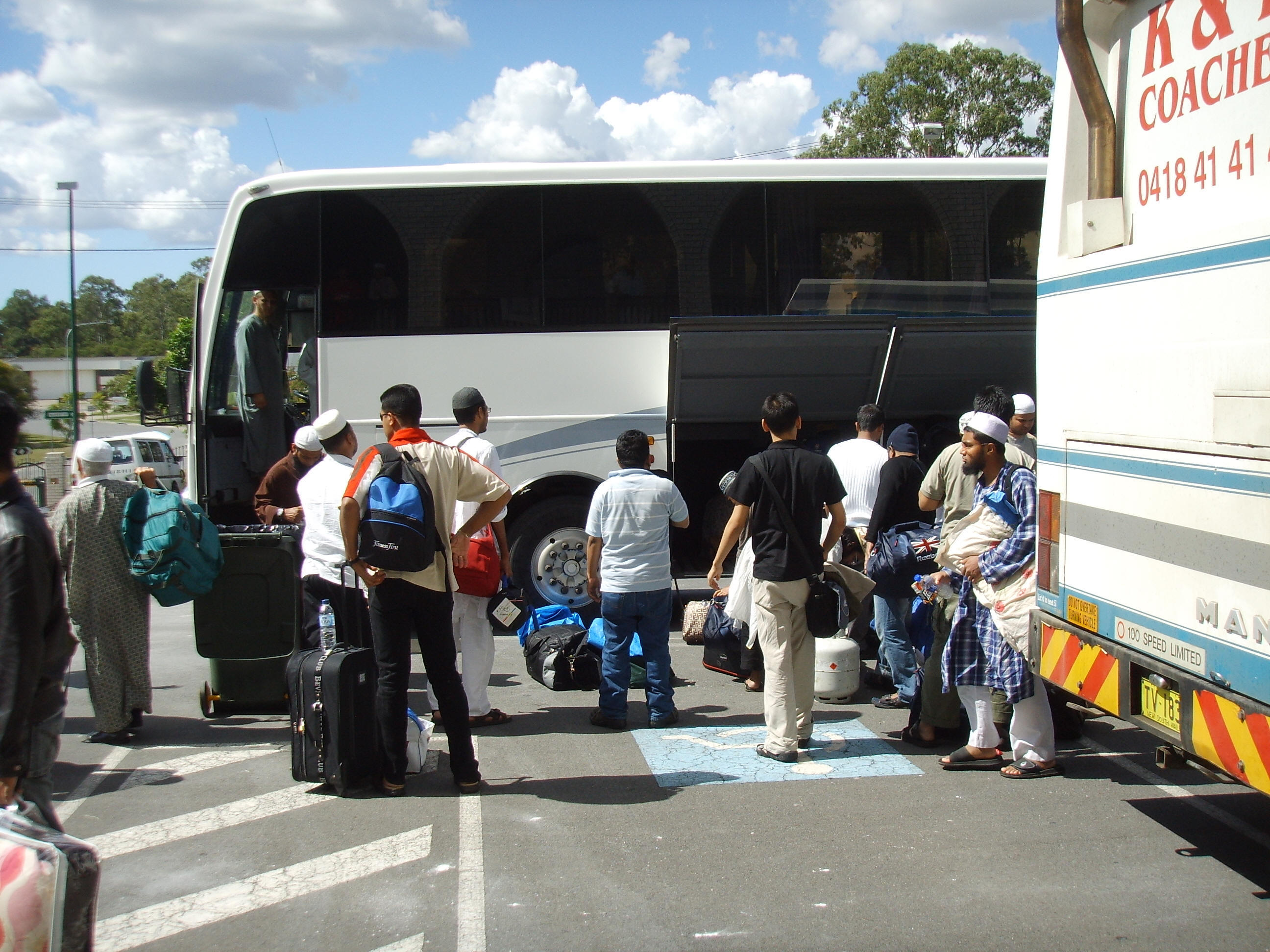 They came in buses, cars and planes, and from as afar afield as Saudi Arabia, Pakistan and Malaysia.
Some travelled from Perth over three days by car to get here, and busloads came from Sydney after a 16-hour long journey.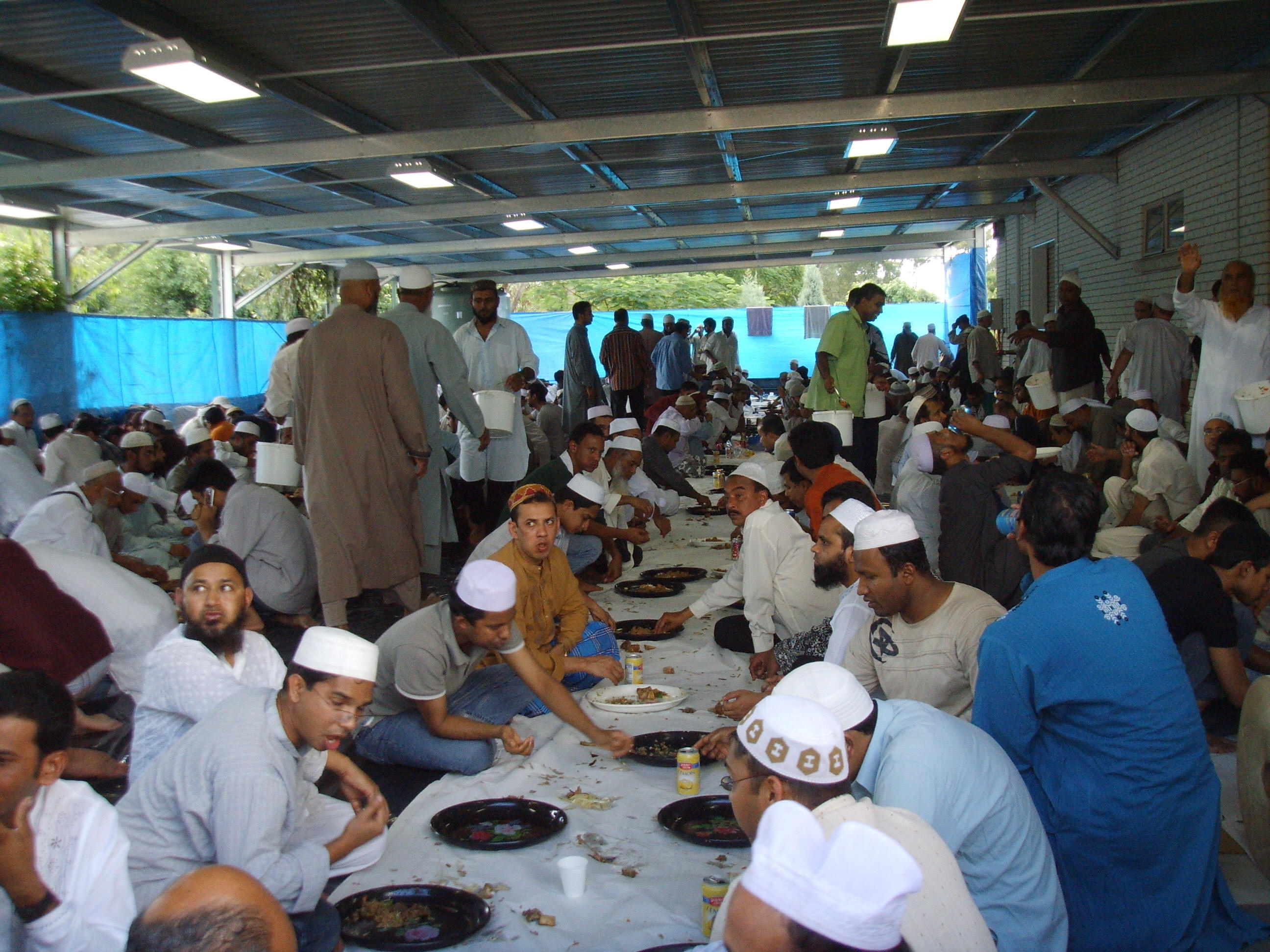 Rows and rows of people were then fed piping hot food and the atmosphere was soon reminiscent of Makkah, Medina, or for that matter, Durban or Johannesburg.
Queensland was playing host to an Ijtima for the very first time; and, if first impressions are anything to go by, then the organization by the local committees and the presentation of Darra Mosque has done the State proud.
Over the four days 1.75 tonnes of meat, half a tonne of rice, 2.5 tonnes of fruit and vegetables, and 100 kilograms of honey and 150 kilograms will have been prepared for consumption.

The programme continues until tomorrow (Monday 17 April). Imam Uzair Akbar of Holland Park Mosque will be delivering a talk after Asr today (Sunday) and after Isha. Iqamaat for Asr is at 4:30pm and Iqamaat for Isha is at 7:30pm. The climax of the Itjima is the final Dua which is after Fajr on Monday, the Iqamaat for Fajr is at 5:30pm. The closing of the Itjima is usually a very moving and emotional experience.
Family Makes New Start in Brisbane
Crescents of Brisbane welcomes Sam and Sharina Odell to Brisbane. We trust that they will enjoy the warmth of both the weather and the local Brisbane community.
Our Man-on-the-Mussalaah interviewed Sam to find out about his experiences as a new Muslim.
MotM: Which part of the world do you come from?
Sam: My country of origin is Australia, 4th generation of Irish and Scottish heritage

MoTM: What do you do for a living?
Sam: I am currently employed as a stockbroker. I have completed a Diploma of Financial Markets, through Finsia, and am currently enrolled in a Economics/Financial planning bachelor degree with Deakin University.
MotM: What was your religious background?
Sam: I have no previous religious affiliation, and although I was christened I have never attended Church. And the first time I picked up a bible was after I reverted to Islam.

MotM: When did you become a Muslim?
Sam: I reverted to Islam in February 05 at the Redfern Mosque in Sydney
MotM: What made you want to become a Muslim?
Sam: When I think back it was probably in a few stages. After September 11 when there was a lot of bad press in the media and Islam was being heavily criticized as a fanatic religion I decided to read a book on the topic which might present a less biased view. I had no interest in the religion what so ever I was more interested in the political climate at the time. I read a book called a short history of Islam by Karen Armstrong, I remember being left with the impression that Islam wasn't the evil force it was being painted as in the media. I didn't really give it another thought though religion wasn't something in which I had an interest.

Then the Bali bombing happened in which a member of my family passed away and again the media was attacking Islam. I found it odd that such a terrible crime had been committed and the focus was on Islam, usually it is on the suspects themselves. I'd never seen a headline referring to a Jewish, Christian, Hindu or Buddhist murderer.

More and more over time it seemed the media took every opportunity to print negative articles about Islam. Eventually one day whilst in a book shop I saw a translation of the Koran on the shelf, I remember thinking that's like the equivalent of the Bible for Muslims. I picked it up and thought I really should have a look and see what Islam is about.

I didn't read it for a several weeks. But one weekend when I eventually picked up the translation I couldn't put it down. It struck me that this was the absolute truth and I had to become a Muslim I wasn't really sure what that would mean but I wanted to find out. I lived in Coffs Harbour where there is no Masjid or Muslim community and therefore had to read stuff from the Internet and joined a few web forums.
I spoke to my wife here for the first time who told me if I was interested in converting she would introduce me to some brothers in Sydney who could help. I traveled to Sydney about a fortnight later and met the brothers and did my conversion. This was in February 2005 my wife and I stayed in contact and were married in Singapore last year.
MotM: When did you come to Brisbane?
Sam: We have just recently moved to Brisbane about four months ago and are trying to settle in. Also Alhumdillilah we just discovered recently after moving that were are expecting our first child.
MotM: How are you settling in in Brisbane?
Sam: One thing my wife an I are currently lacking is a social group of Muslims with whom we can interact, so we look forward very much to meeting some people in the area.
My experiences as a new muslim have been overwhelmingly positive but the one problem I have is socializing. I converted just over a year ago now and being 25 years old, most of my friends I grew up with have different ideas and activities when it comes to socializing and having fun.
MoTM: Tell us a little about your family.
Sam: My wife's name is Sharina and she is originally from Singapore and has been in Australia for almost 5 years now. She did English, Geography and Anthropology/Sociology at University and aspires to be a teacher. She has just switched from full time to part time work recently and is currently working in a call centre. She is Muslim and so are her family.

The Islamic Women's Association is currently looking to employ a full time registered Nurse. The position requires the following:
- 30 hours to Full time
- CALD community organization
- Drivers licence/ Vehicle
- Police Clearance
- Immediate start
For more information contact Galila Abdelsalam on (07) 3299 2838 or (07) 3299 4563
Male and female volunteers are also needed for the new Salam Respite Centre which opened this month. Assistance involves:

- Driving
- Entertainment
- Socialising
- Assisting in activities
- Crafts
- Cooking

IWAQ will be grateful for any assistance anyone can provide. For more information please contact Wimarat on (07) 3272 8071 or 0411 767 161.

Fancy the chance of winning an IPOD........

And one preloaded with the entire Quraan and translation?
Then all you have to do is enter the colouring-in competition being conducted by the Kuraby Masjid and Madressah, and for just a dollar entry fee you stand in line to win this fabulous prize, failing which you could land a second or third prize comprising one of two Xlogic mp3 players with Surah Yaseen pre-loaded.
Download the brochure for more competition details.
The colouring sheets can be obtained from any of the following gentlemen:
Imraan Nathie (0431 300111); Yusuf Saley (0402 137786);
Ismail Bahaudien (0404 635668) Hm 33418786;
Mohammed Said Dawoodgee (0400 126456).
Alternatively sheets can be collected and paid for at Kuraby Masjid, Magreb and Eisha time everyday (Yacoob Moolla can be seen for these) or as late as the morning of the Madressah BBQ as entries have to be in by 1pm on Sunday 23rd of April.
One minor snag: You have to be under 12 to qualify to enter.
ICV Nomination of AFIC Presidency
The Islamic Council of Victoria (ICV) held a community forum on 29th March 2006 as part of the AFIC election nomination process.
The forum, one of the first of its kind, provided an opportunity for candidates in the upcoming AFIC elections to present their vision for AFIC in the future and to assist the ICV in making its decision on who to nominate for contested positions.
The ICV reached its decision to nominate Mr. Ikebal Patel after considering the community's feedback and the presentations of the candidates. The Council has prepared an executive summary of the decision as well as the full reasons for the decision.

Ikebal Patel JP BE (Elec), MBA, CP Eng., MIE Aust., MIEE (UK)
Mr. Ikebal Patel is a practising Electrical Engineer as well as owning a motel in Canberra. He is the Chairman of the ACT Muslim Advisory Council and the National Treasurer of AFIC.
PS. According to its Vice President, Shahjehan Khan, the Islamic Council of Queensland was expelled by AFIC a while back, and "even after duly run new election AFIC has not changed its decision".

AFIC has just released the names of the nominations it has received:
For President:
1. Abbas Ahmed of Brisbane, nominated by ICSA
2. Ikebal Patel of ACT, nominated by ICACT, ICCI (Christmas Island), ICTas, ICV, and MCNSW
3. Rahim Ghauri of Perth, nominated by ICWA
For Vice President
1. Hafez Malas of Sydney, nominated by MCNSW, ICACT, ICTas, and ICCI
2. Waqar Ahmed of Darwin, nominated by ICNT
For Secretary
1. Mohammed Berjaoui of ACT, nominated by MCNSW
2. Abdul Rahman Deen of Brisbane, nominated by ICSA
For Treasurer
1. Harun Abdullah of Hobart, nominated by ICTas, MCNSW and ICACT
2. Adnan Sert of Adelaide, nominated by ICSA
Written especially for CCN by Belinda Zordan, Public Relations Manager, Census Management Unit (Qld) of the ABS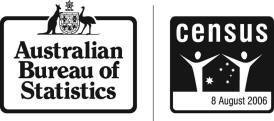 Yes, it's Census time again, and the Australian Bureau of Statistics is ready for the massive count.
The National Census of Population and Housing will be held on Tuesday, 8 August. In Queensland more than 5,000 Collectors will be delivering around 1.7 million Census forms from Cape York all the way to the southern border to ensure everyone is counted.
The Census provides a snapshot of everyone in Australia, and measures important things like age, birthplace, languages spoken, religion and ancestry. It also helps find out if people need English language assistance.
Community organisations, government and businesses all rely on Census data to plan community facilities and services like housing, health, education, language services and special assistance programs.
Ethnic organisations endorse the Census. Information provided on the Census form not only helps provide an accurate picture of the community, but also assists in the allocation of government funds to ethnic communities.
With one in five Australians speaking a language other than English at home, the ABS realises there is a need to provide assistance to households that have difficulty speaking or reading English. The ABS has developed a number of strategies to help ensure these groups can participate in the Census including translated information, a Language Helpline and the recruitment of Collectors who speak languages other than English.
Recruitment of Census Collectors officially begins on Saturday, 8 April. These jobs are paid, part time positions. The ABS is particularly keen to hear from people that speak a language other than English. Those interested in helping their local community, while earning a few extra dollars should call 1300 263 787 or log on to www.abs.gov.au/recruitment after 8 April.
All information collected in the Census is confidential, and your privacy is guaranteed. Census workers are legally bound to never release any personal information to anyone outside the ABS. Organisations like the Federal Police, ASIO, the Tax Office, Centrelink and Immigration can never obtain personal information from the Census.
By taking part in the Census you can help plan for a better future for your local community, and help ensure ethnic groups have the services they require.
8.15pm, lecture delivered by Moulana Uzair.
Check out the latest on IFA: ifa.qmt.org.au
The winner of the Nandos Fiesta voucher whose email was the first correct entry to be randomly drawn from the CCN Inbox can be found by clicking here.
Answers to last week's competition: the next generation laptop
In the revolution of miniature computers, the scientists are ahead with bluetooth technology...
| | |
| --- | --- |
| <![if !vml]><![endif]> | <![if !vml]><![endif]> |
This week's brain teasers:
1. What are the next 3 letters in this sequence? o t t f f s s _ _ _

2. I know a word of letters three. Add two, and fewer there will be ________?

3. What can you hold without ever touching or using your hands?

4. When can you add two to eleven and get one as the correct answer?

5. What is the next letter in the series: "B, C, D, E, G, ..."? And Why?

6. While walking across a bridge I saw a boat full of people. Yet on the boat there wasn't a single person. Why?

Email your entry to reach our Inbox by midday Saturday 22 April.

At New York's Kennedy airport today, an individual later discovered to be a public school teacher was arrested trying to board a flight while in possession of a ruler, a protractor, a set square, a slide rule, and a calculator.

At a morning press conference, the attorney general said he believes the man is a member of the notorious Al-gebra movement.
He is being charged by the FBI with carrying weapons of maths instruction. Al-gebra is a fearsome cult," a Justice Department spokesman said.
"They desire average solutions by means and extremes, and sometimes go off on tangents in a search of absolute value. They use secret code names like 'x' and 'y' and refer to themselves as 'unknowns', but we have determined they belong to a common denominator of the axis of medieval with coordinates in every country. As the Greek philanderer Isosceles used to say, 'there are 3 sides to every triangle'."

When asked to comment on the arrest, President Bush said, "If God had wanted us to have better weapons of maths instruction, He would have given us more fingers and toes".


MBN is holding its first Breakfast Seminar on Wednesday, 19 April at the Roma Restaurant, Logan Road.
The topic of discussion is on tax effective wealth creation and the speakers are from Macquarie Bank and Navigator.
Now, if that doesn't get you all excited and enthused then at least there is the Continental breakfast of orange juice, scrambled eggs and toast or cereal, hash browns, mushrooms and tomatoes (all fried in vegetable oil) and tea and coffee to look forward to.
If you would like to attend then email the secretary@mbn.net.au.
The cost is $10 for members and $17.50 for non-members.
Write For Us
The best ideas and the best feedback come from our community of readers. If you have a topic or opinion that you want to write about or want seen covered or any news item that you think might be of benefit to the Crescents Community please e-mail theteam@crescentsofbrisbane.org.
Share your thoughts, feelings and ambitions for our community through CCN.
If there is someone you know who would like to subscribe to CCN please encourage them to send an e-mail to theteam@crescentsofbrisbane.org with the words "Subscribe Me" in the subject line.
Disclaimer
Articles and opinions appearing in this newsletter do not necessarily reflect the opinions of the Crescents of Brisbane team, CCN, its Editor or its Sponsors.