Sunday, 7 May 2006

Newsletter 0078

لسلام عليكم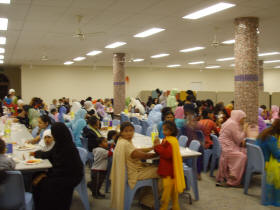 The Islamic Society of Darra held its annual fund raiser last night with a traditional lovo.
Lovo is the Fijian name for a feast cooked in the earth (in New Zealand, a 'hangi').
The taste is like a barbeque, only a little more smoked, and it's a very efficient way to cook large quantities of food at the same time (which, apart from being a novel attraction was a welcome change from the snags on the barbie fare)
To make your own you'll need to dig a pit a couple of feet deep. Put firewood in the hole - under some smooth surfaced stones. Light the fire and wait for the stones to get red hot. You then move the stones about to make a platform for the food, which can be anything you would normally put in an oven - beef, lamb, fish, and vegetables. Wrap the food in foil and place on the stones, with the things that require more cooking on the bottom. Cover the feast with banana leaves (and/or damp sacks) and cover the lot with soil. Leave for a couple of hours before serving.
(http://www.fijiatoz.com/l.html)
Rahim Gauri, AFIC President

The Executive Committee of the Australian Federation of Islamic Councils (AFIC) was elected into office this week. They are:

President: Rahim Ghauri
Vice President: Waqar Ahmed
Treasurer: Harun Abdullah
Secretary: Mohammed Berjaoui

The Vice President of the Islamic Council of Queensland, Dr Shahjahan Khan, sent this open letter to the incoming President:

Assalamu alaikum warahmatullah Dear Br Rahim.

Congratulations on your election as the new President of AFIC. May Allah give the ability, strength, and assistance to serve the Ummah at this very difficult time. We need an effective leader of AFIC and partnership now than any time before. There has been lots of talking on AFIC and now we hope you will be able to act on the expectation of the Muslims in Australia.

Brother, I am the current Vice President of IC of Queensland. ICQ President, Br Abdul Jalal and rest of his team is prepared to work with you. We hope you and your new team will not disappoint us. We will be happy to serve the Ummah along side the AFIC under your leadership. We are prepared to talk to you and resolve all the matters that may have unnecessarily stood between ICQ and AFIC.

In my humble observation, the problem of AFIC is with its office staff. Please clean it, if you really want to achieve any good. Removal of the CEO of AFIC is the only way to make AFIC effective. Also, you will have to bring AFIC to the communities and individuals from the grip of a few self-seekers.

We can't afford to have an AFIC by name, and not having wider participation from across the country. AFIC should be for all Muslims in this country, not just for some recycled people. Alhamdulillah, locally we are trying to do our best, and hope you will encourage us to do even better by making AFIC a source of inspiration and guidance, not a platform of few vested quarters.

Please lead us, and don't leave us. Allah will not forgive us if we fail to look after the wider and greater interest of our brothers and sisters.

May Allah help you to make a difference and get out of status quo for the sake of His Deen, and the Ummah of beloved prophet, Muhammad, peace be upon him.
Tutoring Refugees in English
Ms Jess Willard and her young wards

Volunteer Refugee Tutoring and Community Support (VoRTCS) is a non-profit, volunteer run organization which assists refugee families in Australia.

VoRTCS provides free in-home tutoring for refugee families in Brisbane. The tutors help children with schoolwork and parents with life skills and conversation practice.

Tutors visit the same family weekly for an extended period, and can choose the day and time of their visit. Where possible, tutors are matched with families who live in the same area as they do. No teaching experience is necessary, and all volunteers are provided with training and resources. Tutors of all ages are welcome!

CCN wanted to learn more about the organization and posed these questions to the coordinator of the VoRTCS program, Ms Jess Wellard:

Approximately how many families/individuals are there in need of tutoring? We currently have at least 40 families on our waiting list for tutors. However, I am aware of a much larger number who could benefit from tutoring, and I seek these referrals when I have tutors who are able to assist in a particular location. I suspect that there are hundreds of refugee families in Brisbane, Logan and Ipswich who would like assistance, and referrals are always coming through as different organizations hear about our program.

If you knew of any refugee families who would benefit from tutoring, you can contact me and I will send you a referral form. Because we match families up with tutors who live in their area, often it is easier to find tutors for families who live in certain areas over others.

What are their ethnic backgrounds? Many of our families are Sudanese (approximately 65%). We are also getting increasing numbers of referrals for families from Burundi, Rwanda and Liberia. Our other families mostly come from Afghanistan, Iraq, Iran, and the Congo, and we are starting to get more referrals for middle-eastern families coming through.

Which areas are they based in mainly? Our families come from all over Brisbane. Many of the refugee families live around Annerley/Yeronga on the Southside, and around Kedron/Zilmere on the Northside. However, we have families all over - including a cluster of families in Manly (about 15 Sudanese families) that we are struggling to find tutors for. We also have some families on both the Gold and Sunshine Coasts, and many families around the Logan area. As our tutors live all over Brisbane, we can generally help families no matter where they live - and we match our tutors up with families who live near them to make it easier for the tutors to visit.

What are their religious backgrounds? Many of the Sudanese families are from South Sudan, and are presumably Christian. However, quite a few of our families are Muslim, and some of them I do not know what religion they are. Although we are sponsored by Vinnies (who provide us with insurance and resources), we are a non-religious program and do not ask about the religious beliefs of either our tutors or our families, so it is a little hard to generalize. We are starting to get more Muslim families referred to us, as a lot of these families have been here for longer than the African families who were the easiest to locate for tutoring.

Would Muslim tutors serve a particular need over and above their ability to teach English?
Some of my families have requested a Muslim tutor in the past, while others would probably feel more comfortable with a Muslim tutor (particularly for teenage girls). In addition, if any of your members spoke Arabic this would be invaluable - some of our families have little English language skills and have requested an Arabic speaking tutor where possible, but we have difficulty finding Arabic speakers. I understand that often the dialect is very different between Arabic speakers from different countries, and am not sure of exactly how extensive the differences are. But I know from talking to my family that they can speak both Sudanese Arabic and Egyptian Arabic, for example.

In addition, from a personal point of view one of the things that I have been trying to do with the program is to break down the barriers in society - between different racial groups, between Christians and Muslims - and to get people to see each other for who they are rather than for their ethnicity or religion.

I think there is still a lack of knowledge about Islam in the community and the VoRTCS program is one way of building links with the Muslim community in a way that is non-threatening for tutors and could quite possibly have far-reaching effects at a grass-roots level.

I would very much like to have more tutors involved in the program who are Muslim, and I think it would also be valuable for the families (whether Christian or Muslim) to have tutors of all ages, ethnic backgrounds and religions. Again, I would stress that although the program is sponsored by Vinnies, we definitely do not have any sort of religious focus or content to our meetings. We focus strictly on education and friendship.

We have access to a large literate and educated Sundanese community. Would their involvement be of particular value (assuming that they are unaware of or uninvolved with your program)? It is quite likely that many members of the Sudanese community are as yet unaware of our program, as we changed our name late last year and have grown exponentially since then (we now have 180 tutors). If they were interested in getting involved in the program they would be invaluable. Anyone who was interested in tutoring would be very useful to some of our Sudanese families who may like a tutor who understands their background first-hand.

In addition, our tutors are very interested in hearing about other countries and if any of them were able to come in and talk at one of our meetings about Sudan, that would be fantastic. Finally, we are looking at running community events, including regular BBQ's, art classes etc, that would bring the local communities together and encourage interaction and building ties. So I would be very interested in talking to members of the local Sudanese community about this.

Do you require any other kinds of support (for example, financial or material)?
At this stage we run on basically no budget (our committee are all volunteers) and our costs are low. However, if you were able to help out by perhaps donating some books for our library (that tutors can use to teach their students - textbooks, reference books or readers/kids story books), or if you had spare desks etc that we could give to our families to use for study, it would be great if we could talk more about this. We could also use educational supplies, as at this stage our tutors buy things for their family themselves.

What is the background of your volunteers?

Many of our tutors are professionals who work full-time and tutor after work. Others are students (from Year 12 to University-going), some are retirees. Basically anyone can be involved in our program as long as they are able to spend an hour a week visiting their family.

I have had a look at your CCN newsletter and it looks fantastic - and I am sure that there are many amongst your readership and organization who would not only do a great job with our refugees but will also find much personal satisfaction from being involved in this program.

For more info: www.refugeetutoring.org
Two for the price of one: New arrival and a new Nandos
Hasan and Shenaaz Syed have started up a Nandos fast food outlet at the Westfield Shopping Centre in Helensvale.
Recently arrived from Sydney to settle in Queensland, the couple have a son, Sabah, and a daughter, Haiqa (9).
The Syeds had obviously got their priorities right when they decided to register for CresWalk2006 even before they found a place to move into.
CCN wishes them all the best in their new venture and that they get a chance to meet up with many of the locals along the Riverside route on Sunday 21 May.
CCN's Mystery Object of the Week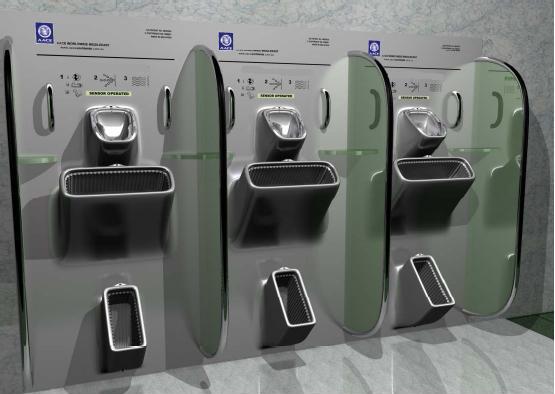 The image above has been doing the email rounds this week. If you have not had the dubious privilege of receiving at least 10 copies of it in your inbox from perennial forwarders and other well-wishers then have a go at guessing what you think the object pictured here is used for.
Email your answer, and the sender of the most original suggestion gets immortalized with his/her name scrolling a specially dedicated web page on Crescents of Brisbane archived in perpetuity (or for as long as we are able to afford the monthly ISP website hosting fees).
Over 1000 Muslim children are studying in the 50 State Schools in Brisbane. You can volunteer to become a Religious Education teacher at a sign on session this week.
The Religious Education Volunteer Teacher sign up and blue card registration day is on Saturday 13 May, at the Darul Uloom, Buranda between 9 and 11 am.

Take along a copy of the Volunteer blue card application form as well as all your supporting documents as specified in part B.

Five schools have already begun with the classes. A training session has been scheduled towards the end of June.
For more information go to www.myunity.org.
Muslim girls in Israel take boxing to the limit
Fatima,13, left, and Riham Agabaria, 15, a national champion, trained by their father Taufiq, have had to defend themselves against neighbours' prejudices

UMM EL FAHM, Israel -- Riham Agabaria has a left hook that will knock your socks off. Or your head scarf.

Sparring in her hometown in northern Israel, the shy 15-year-old lets loose a strike that brushes back the traditional Muslim headdress of her opponent -- younger sister Fatima, who is forced to flee to the restroom to rearrange her hijab.



''I recommend every girl try boxing,'' said Riham, panting from behind a light-blue head scarf after a two-hour workout. ''It gives you confidence and teaches you how to protect yourself.''

With their unusual hobby, Riham and her 13-year-old sister have blazed a trail for other religious Muslim girls in Israel, and have sparked a debate within their own traditional society.

Influenced by their more liberal Jewish neighbors, Israeli Arab women have been encouraged to push the boundaries further than their peers elsewhere in the Middle East. Still, for young religious girls expected to keep to a traditional secondary role, the Agabaria sisters have managed to ruffle more than a few feathers by venturing into the strictly masculine domain of boxing.

Experts say there is nothing in Islam that directly bars women from sporting activities such as boxing, but many in this traditional hilltop town of 40,000 were skeptical when Toufiq Agabaria started training his daughters and, more troublingly, allowing them to fight boys. A local religious leader even issued a decree against the swinging sisters.

Toufiq Agabaria, a former Israeli boxing champion, sees nothing wrong with it.

''Sports is one thing and religion is another,'' he said. ''As long as it [boxing] is not opposed to the tradition of Islam, I think it is positive.''

Agabaria's daughters hold national age-group championships for girls in the Israel Boxing Association -- though they're somewhat dubious titles because there aren't many challengers.

Israel's 1.4 million Arab citizens make up roughly one-fifth of the population. They often are on the sideline of mainstream society, particularly women who are restricted by the traditional confines of the family.

Toufiq Agabaria said boxing does nothing to diminish the faith or the dignity of his daughters. On the contrary, he said, the Quran is full of tales of women in battle, including one involving the prophet Muhammad's wife.

Ibrahim Sarsoor, an authority on Islam in Israel, agreed.

''Islam does not differentiate between man and woman,'' he said. ''But if it is men with women, that crosses the line, that is unacceptable.''

Toufiq Agabaria's daughters are covered from head to toe when they fight and only come into direct physical contact with boys under the watchful eye of their father.

''I won't let my daughters walk around with a boy, but inside the ring I see them up close,'' he said.

Their mother, Kiram, said she also supports her daughters' pastime.

''Until now, nobody has hit them,'' she said. ''They are very strong. We trust them.''

The Agabaria sisters' main challenge is finding someone to fight. The women's ranks are sparse.

Riham recently defended her national title. After no girl was willing to fight her, Riham battled a boy -- and beat him. Fatma, a four-time Israeli champ, has never lost a match.

''I hope they will continue to be a good example for other Arab woman boxers in Israel,'' said William Shihada, head of the Israel Boxing Association, whose 2,000 members include 25 women.

Source: http://www.timesonline.co.uk/article/0,,251-2119212,00.html
The CCN Smile-for-the-Week
While taxiing at London's Gatwick Airport, the crew of a US Air flight departing for Ft. Lauderdale made a wrong turn and came nose to nose with a United 727.

An irate female ground controller lashed out at the US Air crew, screaming: "US Air 2771, where the hell are you going?! I told you to turn right onto Charlie taxiway! You turned right on Delta! Stop right there. I know it's difficult for you to tell the difference between C and D, but get it right!".

Continuing her rage to the embarrassed crew, she was now shouting hysterically: "God! Now you've screwed everything up! It'll take forever to sort this out! You stay right there and don't move till I tell you to! You can expect progressive taxi instructions in about half an hour, and I want you to go exactly where I tell you, when I tell you, and how I tell you! You got that, US Air 2771?".

"Yes, ma'am," the humbled crew responded.

Naturally, the ground control communications frequency fell terribly silent after the verbal bashing of US Air 2771. Nobody wanted to chance engaging the irate ground controller in her current state of mind. Tension in every cockpit out around Gatwick was definitely running high.

Just then an unknown pilot broke the silence and keyed his microphone, asking: "Wasn't I married to you once?"

The Forgotten Legacy of a Religion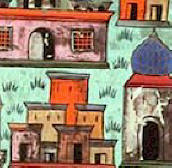 What do coffee beans, torpedoes, surgical scalpels, arches and observatories all have in common?
Were Leonardo da Vinci's flight ideas originals?
Who devised the casing for pill capsules and where did Fibonacci learn to flex his mathematical fingers?
The Islamic contribution to the science, culture and heritage of our modern world is often forgotten. From coffee to cheques and the three-course meal, the Muslim world has given us many innovations that we take for granted in daily life.
Every so often, over the next few weeks, CCN will bring you an invention inspired by the Islamic World.
Check This Out, Mate!
A form of chess was played in ancient India but the game was developed into the form we know it today in Persia. From there it spread westward to Europe - where it was introduced by the Moors in Spain in the 10th century - and eastward as far as Japan.
The word rook comes from the Persian rukh, which means chariot.
--------------------------------------
Source:
http://www.1001inventions.com

Dear Editor
On behalf of the Kuraby Maddressah Committee, I would like to thank Crescents of Brisbane for their contribution at our Fundraising BBQ last Sunday. Your efforts and community spirit is highly appreciated. May Allah (SWT) reward you all for your efforts, Inshallah!
Kuraby Maddressah Committee
Write For Us
The best ideas and the best feedback come from our community of readers. If you have a topic or opinion that you want to write about or want seen covered or any news item that you think might be of benefit to the Crescents Community please e-mail theteam@crescentsofbrisbane.org.
Share your thoughts, feelings and ambitions for our community through CCN.
If there is someone you know who would like to subscribe to CCN please encourage them to send an e-mail to theteam@crescentsofbrisbane.org with the words "Subscribe Me" in the subject line.
Disclaimer
Articles and opinions appearing in this newsletter do not necessarily reflect the opinions of the Crescents of Brisbane team, CCN, its Editor or its Sponsors.