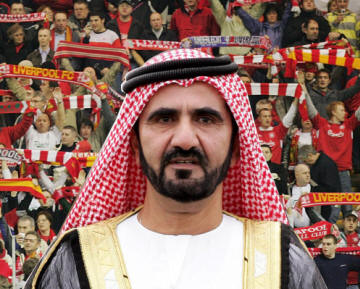 Age: 57
Nationality: United Arab Emirates
Position: Vice-president UAE, ruler of Dubai
Wealth: Estimated £7bn. Add in 'family money' and some reports rate him
world's 5th richest man
Hobbies: Horse racing, camel racing. Patron of Dubai events
including golf and tennis
Sheikh Mohammed bin Rashid Al Maktoum - to give him his full name - has built the biggest bloodstock empire there's ever been.

And now he is the central figure in one of football's biggest takeovers as the investment arm of Dubai's government seeks a buy-out of Liverpool FC.

Comparisons have already been made with Chelsea's billionaire Russian owner Roman Abramovich, but the Sheikh is a man apart - one who has helped revolutionise the world of horse racing.
Read more at:
http://www.thefirstpost.co.uk/index.php?menuID=2&subID=1193
http://www.thefirstpost.co.uk/index.php?menuID=2&subID=1193
http://www.cambridge-news.co.uk/news/newmarket/2006/12/06/a6949034-38e7-419d-b535-ddf2eee3dee3.lpf