How badly do you want to go for Hajj?
One man's epic journey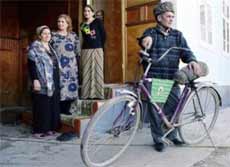 URUS-MARTAN — Seeking the greatest spiritual experience in a Muslim's life, a 63-year-old Chechen criss-crossed 13 countries on his rusting bicycle to join nearly three million Muslims from across the world in performing hajj.

"I was only afraid, and am afraid, of God -- and that I might not reach my goal," Dzhanar-Aliyev Magomed-Ali told Agence France Presse (AFP) on Monday, January 29, after retuning home from the spiritual trip.

Magomed-Ali finished a 10-week trip on his old bike from Urus-Martan, a small village in Chechnya, to the holy city of Makkah in Saudi Arabia.

The distance between the capital Grozny and Makkah is nearly 5,000 kilometers but the aging Chechen clocked up nearly 12,000 kilometers in his circuitous route.

He said the inspiration came from his mother who visited him in a dream.

"She told me... 'You should do the hajj Magomed-Ali,'" he recalled.

"And when I asked her how I was supposed to do it she answered 'You've got a bicycle. Go on that and I'll help you along the way.'"

One of the five pillars of Islam, hajj consists of several ceremonies, which are meant to symbolize the essential concepts of the Islamic faith, and to commemorate the trials of Prophet Abraham and his family.

Every able-bodied adult Muslim -- who can financially afford the trip -- must perform hajj once in their lifetime.

Determined to make the journey, Magomed-Ali took the precaution of training for his tough road, taking short cycle-rides around Chechnya's war-ravaged landscape.

The elderly Chechen also equipped himself with 11 spare bicycle chains and six replacement inner tubes for his bicycle.

He recalled the unprecedented route he made through 13 states on his mud-splattered "iron horse" as he calls his old bicycle.

He left his village on November 8 heading to neighboring Azerbaijan, where he camped outside the Saudi embassy hoping for a visa.

"The consulate's employees took me to be abnormal and couldn't understand how I planned to get to their country by bicycle," Mogomed-Ali told AFP, wearing his traditional sheepskin hat and woolen jumper.

After 18 days of relentless efforts with the consulate officials, he gave up and headed south across the border into Iran.

But later came the hardest leg of his journey when he reached war-ravaged Iraq, where he faced a dilemma with the US soldiers.

"Because I hadn't got a visa, they broke my bicycle, smashed it against the ground and called me a Russian pig," Mogomed-Ali recalled.

"I told them I wasn't Russian but a Muslim and they seized my passport and pointed to the crosses on the cover."

He was then forced to turn around and head back to Iran and around Iraq through Armenia and Georgia, down through Turkey, Syria and Jordan.

Finally, after further border wrangles, the Chechen faithful reaches Saudi Arabia to seek his cherished destination, Makkah.

In the holy city, Mogomed-Ali was well-received and offered prayers for his family and homeland, before turning round and heading back home.

Despite the hardships he encountered, the old Chechen is now counting his blessings.

"I did the hajj in order to fulfill the will of my mother, who gave me life and taught me love for my homeland, which for me is priceless," Mogomed-Ali said, standing beside the bike adorned with the emblem of Chechen independence fighters.

The small mountainous republic of Chechnya has been ravaged by conflict since 1994, with just three years of relative peace after the first Russian invasion of the region ended in August 1996 and the second began in October 1999.
Source: http://www.islamicforumeurope.com/live/ife.php?doc=newsitem&itemId=2196