Dirk Kurbjuweit, in Spiegel online in Germany, on how soccer unites Osama bin Laden and the Americans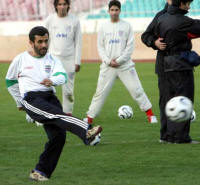 Iranian President Mahmoud Ahmadinejad shoots a ball as he visits Iran's national team during training.
WHEN Osama bin Laden was in London in 1994, he occasionally attended Arsenal matches.

The thought of him sitting there somewhere at Highbury, perhaps in seat 4, row 17 of the east grandstand, slight and inconspicuous, removes him from his cave and puts him back into our world. He's not a demon or a devil.

He's one of us, albeit one of the cruelest, most terrifying specimens of humanity. But anybody who goes to a football match must be human. So he won't elude capture forever.

That's not the only good news. Evidently it's impossible to detest the West enough to forgo the home matches of a London club. For this game belongs to us all, the Iranians as much as the English, the Chinese as much as the Americans. It's different with basketball. Basketball belongs to the Americans, and everyone else can only imitate them. That's why only football can touch almost all of us, Americans and anti-Americans alike.
Of course, no pass - however sweetly timed - will prevent bin Laden from spreading his reign of terror. He was even planning an attack on the 1998 World Cup in France. But for all those not yet blinded by rage, the game can still build bridges.
During the cold war, the Russians were the universal bogymen. In the eyes of the West, each Russian was a miniature Brezhnev. But then came Oleg Blokhin with his magical goals. Suddenly, there were two "Russians", Brezhnev and Blokhin - who actually came from Ukraine, not that anybody cared back then. But perhaps if there were two "Russians", there might be even more. In the end, people began to think that Russians might love their children, too. Maybe they were individuals and could be divided into good and evil. Football can't claim to have saved the world from devastating wars, but it has helped keep the lid on hostilities.
It still has this capacity. What could be better for our planet than if the top stars at this World Cup turned out to be an Iranian and an American? If Ali Karimi and Landon Donovan captivated the entire world with their skills, their own world and their "co-star's" world?
We might suddenly discover that there are two Iranians, Karimi and Ahmadinejad, as well as two Americans, Donovan and Bush. Perhaps there would again be a little less hatred in the world. That really would be something. And what a shame that the Danes won't be there to enjoy it.