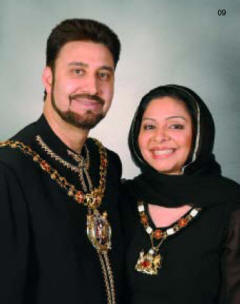 His Lordship, The Mayor of Manchester
It's a long way from the hot plains of provincial Pakistan to the damp urban sprawl of northwest England.
But for Mohammed Afzal Khan, the real journey did not begin until after he'd arrived in 1970's Britain as a bewildered 12-year-old who spoke no English, and had few friends and little clue about the culture he was entering.

Three decades later, Mr. Khan capped an extraordinary odyssey from humble obscurity to high office when he became the first Asian Lord Mayor of Manchester.
The appointment has marked a meteoric rise for a man who started his working life as a mill labourer after moving to the North West from Pakistan.
Lord Mayor Councilor Khan, who has been described as an "Asian Dick Whittington", says, "It was the greatness of the city and the celebration of diversity that made it all possible."
His ambition now is to be the first Asian PM of Britain, but he won't forsake his favourite biryani and ras malai for anything.
FACT SHEET: the City of Manchester is situated in North West England and the CBD has a population of half a million. People from Manchester are called Mancunians. It staged the Commonwealth Games in 2002 and is the home of Manchester United and Manchester City football teams. Old Trafford is the largest, and arguably the most famous, football ground in England
[Editor]: For those who have had a less misspent youth than yours truly and did not encounter Dick Whittington and his cat in one of your bedtime stories then let me bring you up to speed. The legend is that Dick Whittington, a poor country boy, came to London with his cat seeking his fortune. When he reached Highgate Hill, he lost heart and turned to go back home. Then he heard the bells of London ringing out saying "Turn again, Dick Whittington, three times Lord Mayor of London." He remained in London and the story goes that his cat was sold for a great fortune to the King of Barbary whose palace had been overrun with mice. Dick became a rich man and in time became the Lord Mayor of London three times, just as the bells had said.