Sunday, 26 February 2006

Newsletter 0068

Assalaamu-alaikum
<![if !vml]>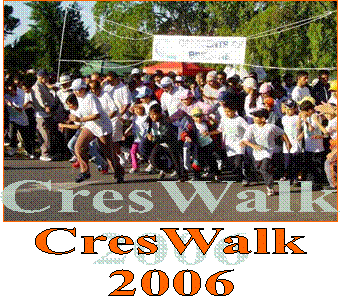 <![endif]>
The Crescents of Brisbane annual Fun Run and Walk will once again take place at Orleigh Park this year on SUNDAY 21 MAY, time enough to dust off those running and walking shoes and start training for the fun event of the year.
Entry forms will be available soon.
There are a few spots available on the Crescents of Brisbane organizing committee. If you would like to be a part of the organizing team please email theteam@crescentsofbrisbane.org as soon as possible
We would also especially like to encourage young adults who are keen on "learning the ropes" to apply to join.
If you are interested in sponsoring or advertising in this year's event please email us and we will follow up the details with you.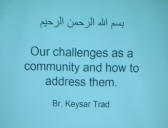 Intrepid Trad Tackles Tough Topics of the Day
With the heat turning up on Islam, there's no denying the fact that the Muslim community faces strong and trying challenges in this society, writes CCN cub reporter, Miss MF, who was at the recent talk by Mr. Kyser Trad.
Last Sunday, about 100 members from a cross section of the Brisbane Muslim community gathered at the Darul Uloom Islamic Academy in Buranda to hear Mr. Keysar Trad's views on the subject.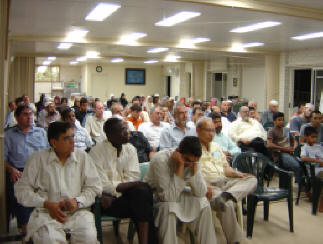 Br. Keysar, once described by a news reporter as the 'man with a million comments' is regularly consulted as a spokesperson for the Muslim community, dealing with both religious and political issues at a state and federal level. In his talk on Sunday, Trad highlighted the main challenges currently faced by the Muslim community, namely with the Muslim youth, many personal challenges and the stereotyping of the community
Br Keysar pointed out that these challenges should be used as an opportunity to grow and to be used as an avenue to eliminate the misconceptions people have of Islam by explaining what Islam essentially is and adopting a more optimistic approach to what is generally perceived to be negative. He emphasized more than once that the objective should be to provide solutions rather than compounding the problems by being defensive.
Trad's presentation was followed by a Q&A session which led to a brief discussion on the gravity of the problems facing the youth in Sydney and, in particular, the high unemployment rate amongst the Muslim youth; the difficulty in gaining acceptance into the wider Australian society and a severe lack of resources for them. Amongst his other endeavours, Trad works hard to lobby government to provide a solution to these problems.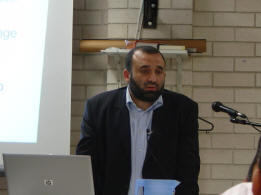 Kyser is the founder of the Islamic Friendship Association of Australia whose website,
http://www.speednet.com.au/~keysar/, contains several links to his speeches and those of others.
The Darul Uloom regularly invites guest speakers to discuss current and relevant issues. If you're interested in finding out more about future talks, contact: Imaam Yusuf Peer at Darul Uloom 0415 710 613
Ongoing Engagement Gets State Funding
Several Muslim representatives of community groups and organizations, academics and social workers attended a follow up meeting during the week with the Minister of Multicultural Affairs, Chris Cummins, as part of the State government's ongoing engagement strategy with the local Muslim community.
A number of initiatives were identified by the Muslim Reference Group as needing immediate funding and attention. These included:
Seminars: One day seminars targeting key policy makers, community workers and an online resource to disseminate information across the public service and the community
Symposium on challenges and opportunities for Islam in the West
Islamic Awareness Week: Awareness weeks in 2006 and 2007 to include an open Mosque program
Youth Workers: Employment of three youth workers for two years (one with a focus on employment, funded in partnership with the Commonwealth government)
Grants: Two rounds of grants for community relations activities; one round of grants for research projects on unemployment; impact of media representations and link into a forum for editors and journalists; and identity and self perception issues for young people
Access to Grants: Conduct grants information workshops and provide grants sourcing and grants writing information and training
Multi-faith Forum: Interfaith dialogue including Muslims and other major faith traditions to be run at Parliament House
Education: Education Queensland to conduct a series of workshops on assisting the community to actively influence school curriculum

The newly formed Muslim Business Network will be conducting its AGM this evening (Sunday, 26 February) where a new Executive Committee will be established to oversee its running. All members are encouraged to attend. You can find out details about the organization at www.mbn.net.au.
Get Well Messages
Riaz Gutta is recovering from bypass surgery at the Wesley Hospital.
Fazal Deen is back home after undergoing surgery.
We wish both gentlemen a speedy recovery and our thoughts and our duas are with them.
The Boys of Bafana Bafana Almost Bring It Off
A blow-for-blow account by CCN cub reporter, Master AF, in his first venture as a sports writer
The venue was Hibiscus Indoor Complex. It was the Mens' Indoor Soccer Finals between Bafana Bafana and a team of locals calling themselves Australia A.
A quick history lesson tell us that Bafana Bafana (for those who are unaware) is a team made up of youngsters mainly from South Africa and Zimbabwe. The team is captained by Idris Jangda.
The two teams took to the field fighting for the honour of being champions. The teams made a tense start to the game and Australia A scored an early goal. As Bafana were looking for a quick reply, they surged forward. This opened up a space for Australia A around 5 minutes into the game for a second goal.
Bafana were trailing 2-0 but were not out of it. Both teams asserted pressure with Bafana looking to fight back and Australia A seeking to finish off the game. However Bafana were the more aggressive and dug in their heels. Their perseverance eventually paid off and Bafana managed to pull one back about 12 minutes into the first half.
Tempers began to fray and yellow cards were awarded to a player on each team. Bafana kept going forward and eventually leveled the game with about 5 minutes to go to half time. Australia A also succeeded in getting a goal just on half time. It was 3-2 going into the break.
Both teams came back determined to finish off the game. Bafana had the best chances early on but were unable to make them count. Chance after chance went begging and this eventually cost the team as Australia A went on a vital break and put in a fourth goal. The score was 4-2 and both teams were tiring very quickly. Bafana kept surging forward as they looked to get back in. Australia A then went defensive. This tactic seemed to be working as Bafana could not find a goal as more chances were lost.
Vital minutes ticked away and eventually the final whistle blew with the score 4-2 in favour of Australia A.
Both teams gave a good performance and can be proud of the way they played. Bafana walked away with a runners up medal and now look forward to the QMT Cup.
Bafan Bafana Team Members
Idris Jangda - Captain
Mobeen Mohamed - GK
Muhammad Jangda
Ishrar Ali
Yaseen Sarfudin
Ismail Essof
Nadeem Malik
Ziyaad Hassan
Aamir Omar

Vacancies
The Islamic Women's Association of Queensland (IWAQ) has immediate positions available for a
· Coordinator,
· Registered Nurse,
· Day / Night Respite Care Coordinator, and a
· Receptionist
IWAQ provides help and homecare services to the Southside Community in CACP, EACH, MIDS, AGED care packages and CALD clients.
For position description and selection criteria please contact IWAQ on 07 3272 8545 or iwaq@iinet.com.au
Application with CV can be forwarded to:
The Secretary
IWAQ PO Box 1909
Sunnybank Hills Qld 4149
Closing date 5pm 7/3/2006
Young Guns Clinch Decider
A running commentary by embedded journalist, Hanief Khatree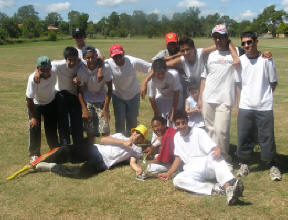 The LB cricket series had an exciting finish when the finals in a 3 match series was played on Sunday 19 February in Brisbane. Just in case you were wondering what the L and the B stood for - it has nothing to do with an alcoholic drink - the L is for Lighties and the B is for Bullies (pronounced bal-ese). South Africans would be familiar with these terms.

The first game was won by the Lighties by 9 runs while the second game was won by the Bullies by 2 runs and 2 balls to spare in a limited 25 over game. The final had all the makings of an exciting match and those that were present were not disappointed. Starting at t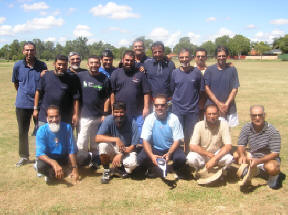 he unfriendly hour of 6am on a Sunday morning, the 2 teams put on their best performance. The Lighties won the toss and put in the Bullies to bat. The Bullies made 180 in their 25 overs. The Lighties had a slow start and with one over to go, they had 16 runs to make. Having made 4 runs in the first 4 balls, the target seemed impossible - but the young batsman Yusuf Omar hit 2 sixes in the last 2 balls to clinch victory for the Lighties. What a match and what a finish.

The Lighties were awarded the LB Winners trophy and they continued their celebration at the local Nandos.

Islamic singer aims to fill pop "spirituality" gap
CAIRO (Reuters) - A singer who has shot to fame in the Middle East with songs about Islam and the Prophet Mohammad says his music is quenching a thirst for spirituality in pop.

Sami Yusuf combines English, Arabic and Turkish lyrics with Middle Eastern and Western instruments in his songs.

Brought up in London but of Azeri descent, 25-year-old Yusuf has achieved celebrity status in Middle Eastern countries including Egypt, where his CDs sell alongside traditional pop and are played in shops and cafes.

"Spirituality is missing in the vast majority of most songs," Yusuf said. "The art world has been hijacked by the commercial environment. That's why we have a vacuum in producing positive art with positive messages, promoting good values."

"I'm not a preacher," he adds.

Yusuf made his first album, "Al-Muallim", for Muslim minorities in the West, who he says are in need of role models from their own faith. "In the West, we don't have enough Islamic celebrities who would make minority Muslims proud," he said.

"In my father's time we had Cat Stevens, Malcolm X, Muhammad Ali. Now you find that a lot of people think: 'Islam. Ah, Osama bin Laden,' You find some youth who are confused, who might feel disillusioned," he said.

Although it was mainly aimed at Muslims in the West, "Al-Muallim" has sold widely across the Muslim world. The title is the Arabic word for teacher and is a reference to the Prophet Mohammad.

"We were shocked when we realized it had become a success in Egypt, and not just in Egypt, in the whole Muslim world," Yusuf said in Cairo, during a recent tour.

He says his work is popular in Arab countries because both the arrangement and lyrics offer listeners something new and different from Arabic pop, which typically deals with love and romance.

Source: http://news.ibn.net/newsgen.asp?url=ipg

CresFit4Life Breakfast Walk
To kick off the new season, Crescents of Brisbane will be hosting an informal breakfast on Sunday 5 March after the Sunday morning CresFit4Life walk at Kangaroo Point.
So escape (for at least one day in the week) the confines of your suburban sanctity and come and enjoy the sights and serenity of your city as you meander along the Brisbane River.
All are welcome. Young and the not so young. Fit and the less than fit. See you there at 7am, inshaAllah!
More information about CresFit4Life can be found on our website under the CresFit4Life bubble.
Write For Us
The best ideas and the best feedback come from our community of readers. If you have a topic or opinion that you want to write about or want seen covered or any news item that you think might be of benefit to the Crescents Community please e-mail theteam@crescentsofbrisbane.org.
Share your thoughts, feelings and ambitions for our community through CCN.
If there is someone you know who would like to subscribe to CCN please encourage them to send an e-mail to theteam@crescentsofbrisbane.org with the words "Subscribe Me" in the subject line.
Disclaimer
Articles and opinions appearing in this newsletter do not necessarily reflect the opinions of the Crescents of Brisbane team, CCN, its Editor or its Sponsors.