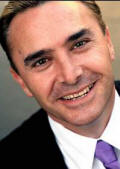 The funeral of multi-millionaire John Ilhan was the biggest held in Melbourne's Muslim community, with up to 4,000 mourners attending Broadmeadows mosque.
Mr Ilhan's funeral was held on Friday at midday at the mosque in Melbourne's north, which is mostly attended by Turkish Muslims.
There will be a public memorial on Monday.
The founder of the Crazy John's mobile phone empire died after suffering a heart attack while on a morning walk near his home in the southern suburb of Brighton on Tuesday. He was 42.
Traditional Islamic law requires a person to be buried within 24 hours of their death.
But Mr Ilhan's funeral had been delayed because an autopsy was still to be completed and his parents, Ali and Nezarket, were due to return to Melbourne on Thursday after rushing back from a holiday in their native Turkey.
Mr Ilhan migrated from Turkey with his family at the age of five and settled in Broadmeadows where his father became president of the mosque.
The Melbourne public, many of whom benefited from Mr Ilhan's wealth through his sponsorship of charities and sporting clubs, will also be able to pay their respect at a public memorial service on Monday.
A Crazy John's spokeswoman said the time and venue of the service would be advised as soon as possible.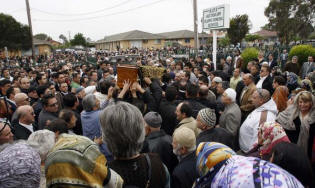 There has been an outpouring of grief around Australia for the rags-to-riches migrant who ended up with a fortune worth $310 million after starting his mobile phone retail business with $1,000 and one shop in 1991.
"He was seen as an icon and a genuine achiever, the 'wog boy' come good, and had conquered a financial and business dream," Mr Ramzi Elsayed, Islamic Council of Victoria president said.
Family friend Neal Aykan said much coverage of Mr Ilhan's death had focused on his business success, but did not mention that he was devoted to his family.
"He managed to be a successful business and public person, but was also a great father, and his own father was the inspiration for that characteristic," he said.
Earlier on Wednesday, the Crazy John's mobile phone chain said it had been flooded with tributes and inquiries about donating money after Mr Ilhan's shock death.
A company spokeswoman requested that any floral tributes be left at the company's head office at South Melbourne.
Tax deductible donations can also be made to the Ilhan Food Allergy Foundation, which Mr Ilhan established with his wife, Patricia, last year after the couple discovered their daughter Jaida suffered a peanut allergy.
The father-of-four was ranked as Australia's 126th richest person, according to Business Review Weekly's Top 200 Rich List.
Mr Ilhan's 75 per cent stake in Crazy John's will now pass to family members including his wife, with the rest of the company's shareholders including members of the Smorgon family, Selpam Group and National Australia Bank.