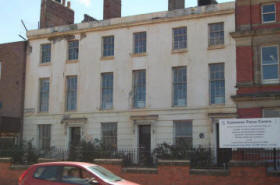 Front of No 8 Brougham Terrace
There is little to suggest that No 8 Brougham Terrace is anything special. But underneath the dust and the mould is a building of extraordinary historical and social significance. This was Britain's first true mosque.
And following years of neglect, it could finally be about to receive the restoration treatment that, given its place in the nation's history, it surely deserves. The Bishop of Liverpool has called for action. The Saudi and Kuwait governments are interested in helping to fund a project that would cost £2.4m.