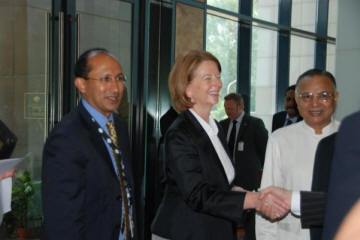 Australia's Deputy Prime Minister, Julia Gillard (pictured left) was in New Delhi during the week to launch the South Australian-based International Centre for Muslim and non-Muslim Understanding globally.

Inspired by former Australian Prime Minister, Bob Hawke, the foundation of the new research centre was announced at the University of South Australia in 2008 at a special ceremony attended by the former PM.

The Centre is dedicated to research that seeks to define, understand and transcend the divide between Muslim and non-Muslim cultures and has already attracted $10 million in funding support from the Australian and South Australian Governments.

UNESCO Chair in Transnational Diasporas and Reconciliation Studies and University of South Australia Pro Vice Chancellor and Vice President for Education Arts and Social Sciences, Professor Pal Ahluwalia, who is leading the foundation of the Centre, said the research agenda goes far beyond religious differences.

"We want research at the Centre to move beyond basic religious dimensions to examine the complex cultural, economic, and sociological factors that affect tensions between Muslim and non-Muslim communities and to look at how notions of 'otherness' impact on media portrayals of the issues and influence the political dynamics within communities worldwide," Prof Ahluwalia said.
"We also want to build the Centre as a place of international engagement, so that the work we do is accessible to governments and societies. This supports a guiding principle of the research Centre - to analyse effective rapprochement between Muslim and non-Muslim communities informed by principles of social justice and reconciliation."

Vice Chancellor of the University of South Australia Professor Peter Høj said that plans for the International Centre for Muslim and non-Muslim Understanding included 10 PhD scholarship opportunities to study in South Australia over the next three years.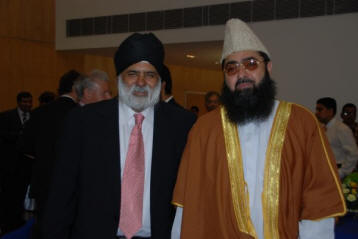 Prof Ahluwalia with Imam Ilyasi at the launch

"Our goal is to build a worldwide community of outstanding scholars with a commitment to understanding and exploring the cultural and sociological factors that influence Muslim and non-Muslim relationships," Prof Høj said.

He said the structure of the Centre would also emphasise international engagement, incorporating an international Advisory Board and Council of Distinguished Scholars that will include distinguished academics from around the world including India. Former Australian PM the Honourable Bob Hawke is an ex-officio member of the board.

"We are delighted to have strong support for this initiative from Minister Gillard and the Australian Government both in providing substantial funding for the Centre and in supporting its research goals at the international level," Prof Høj said.

"It is an important acknowledgment that leadership through education can make a significant contribution to building international peace and the developing the research and knowledge that makes a difference to world communities."

Professor Ahluwalia said the 10 international PhD scholarships, worth more than $A26,000 each plus relocation expenses would help to attract some of the brightest minds to the Centre.

"I am hoping to welcome strong applications from India that can build long lasting bilateral research relationships between Australia and India in this vital area."