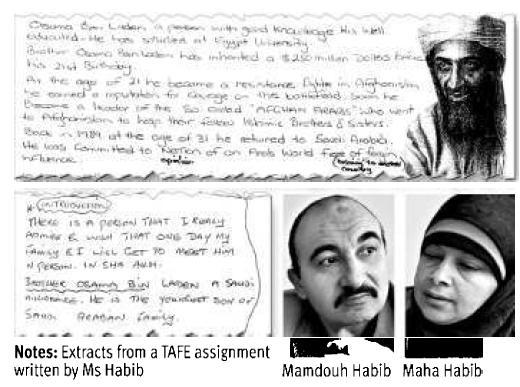 A DOCUMENT describing Osama bin Laden as a courageous "resistance fighter" - used by authorities to portray Guantanamo Bay detainee Mamdouh Habib as a terror threat - has been exposed as a TAFE assignment written by his wife.
An investigation by The Weekend Australian into the allegations against Mr Habib has revealed that the terrorism file on him held by authorities contains handwritten notes from a presentation given by his wife, Maha, to her classmates in 1999.
At the time, bin Laden was years away from ordering the September 11, 2001, attacks on New York and Washington. But the Saudi terrorist had already issued fatwas calling on Muslims to kill the military and citizens of the US and its allies.
"There is a person that I really admire & wish that one day my family & I will get to meet him in person," Ms Habib wrote in the introduction to the speech.
The Habibs have only recently become aware of the documents, and were shocked to discover they were selected paragraphs from a speech Ms Habib gave in her night-school course, Communications Skills Certificate III. Ms Habib still has the rest of the notes for the speech, for which she received "very good" marks from teacher Jan Boyd.