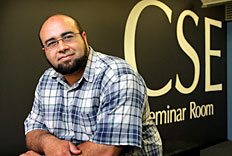 ONE of Australia's leading researchers in artificial intelligence, who developed a computer system that can read sign language, is set to join internet giant Google in the US.
Mohammed Waleed Kadous, a senior research fellow at the University of NSW in the school of computer science and engineering, will be leaving this month after being offered a two-year contract to work in software engineering for the company.
"Google is one of the most exciting places to work in the world," Dr Kadous said. "There are a lot of very intelligent people who work for them who I am hoping to learn from.
"They do a lot of interesting things and are working on a lot of interesting products, and I am eager to get on board."
Dr Kadous's research areas include artificial intelligence, machine learning, robotics and human-robot interfaces.
In 2002, when he was a PhD student at UNSW, Dr Kadous developed a computer that could read sign language with 98per cent accuracy.
"My work has always focused on using computers to make it easier for people to communicate," he said.
Dr Kadous has dedicated his spare time to civil rights. In 2001 he founded the Australian Muslim Civil Rights Advocacy Network which, in conjunction with the University of Technology, Sydney, released a 2004 booklet ASIO, the Police and You, detailing anti-terror laws.
Dr Kadous said civil rights work helped further his career.
"My volunteer work has improved my ability to communicate ideas, especially under a lot of pressure," he said.
"I'm hoping to volunteer for several civil rights groups ... and when I come back to Australia use both the skills I learn from volunteering and from working for Google. Lobby groups in the US have done some amazing work for civil rights."
The third edition of ASIO, the Police and You is due for release early next year.
Source: http://www.theaustralian.news.com.au/story/0,25197,22715014-27703,00.html